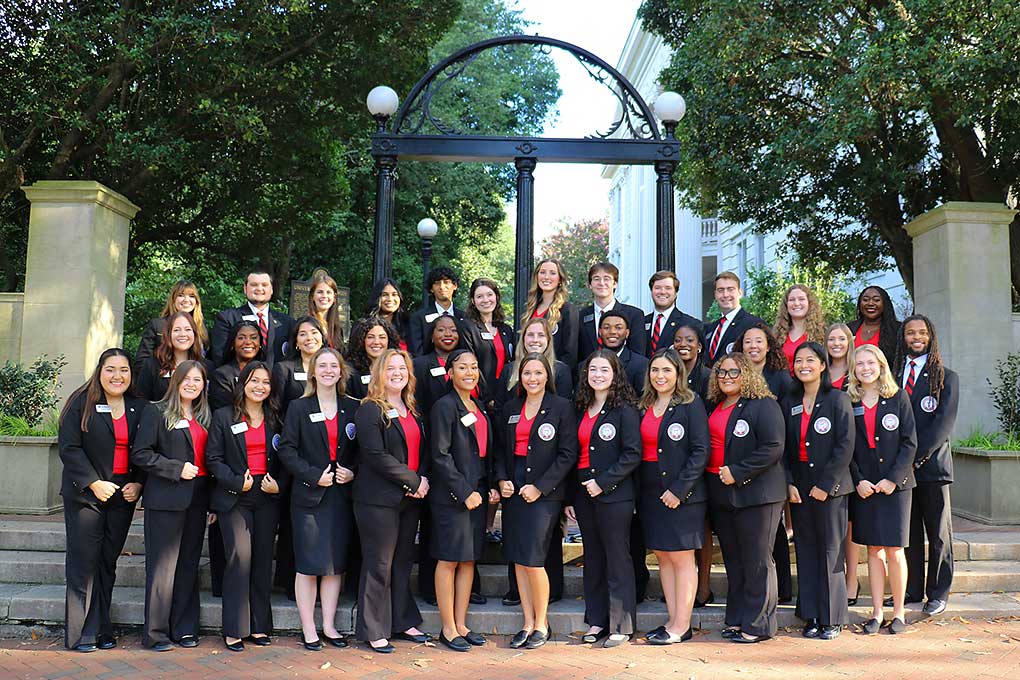 What is the Arch Society?
Arch Society is a unique student organization for students in their third year or higher. Arch Society provides service to the University of Georgia as official hosts and goodwill ambassadors.
The People of the Arch (POTA) seek to serve the University of Georgia at all functions where it is desired to have students welcome guests and visitors to the University of Georgia. Arch Society seeks to advance the University of Georgia through service to the offices of the President, the Provost, the Vice President for Student Affairs, the Senior Vice President for External Affairs, Alumni Relations, the Athletic Association, and other University offices or officials at appropriate functions.
Arch Society is named after the most prominent symbol of the University, the Arch. In 1857, an iron fence was erected along the northern borders of the campus. The Arch, located on Broad Street at College Avenue, became the main entrance and was modeled after the Great Seal of the State of Georgia with three pillars representing wisdom, justice, and moderation. Over the years the Arch has come to be one of the most recognizable symbols of the University of Georgia.
Important Notes for Requesting Arch Society
In order to help ensure that your request will be filled, please request Arch Society at least two weeks prior to your visit. If your visit is less than two weeks away, we encourage you to still fill out the Request Form and we will do our absolute best to fulfill your request.
Arch Society does not have set tour times. Instead, we work with groups individually to schedule a tour time that works for the group and for our members!
If your group is larger than 50 members, weekend tours are easier to accommodate. If your group is larger than 100 members, prepare to be split into multiple groups and tour times. 
Arch Society does not provide information related to admissions, dining requests, or athletics scheduling.
Requests for future semesters will be dependent on members' class schedules, so those requests may be filled closer to the end of the current semester once the members have a better sense of their personal availability. If you have any questions about anything regarding your visit, please contact our Vice Chair for Assignments at archsocvca@uga.edu. You will receive a response within 48 hours.
As the official hosts and goodwill ambassadors of the University of Georgia, Arch Society is eager to serve in roles including but not limited to:
Giving campus tours
Welcoming and directing guests
Facilitating registration for events
Distributing program materials
Representing the university in other appropriate capacities
As you request assistance from Arch Society, please be mindful of adhering to the start/end times of your request as well as what may or may not be appropriate tasks for Arch Society members.
As a reminder, Arch Society cannot:
Handle cash/checks
Serve food/drinks
Set up/tear down for events
Thank you!
Please contact us at archsocvca@uga.edu with any questions.
More Information About Arch Society:
What to learn more about Arch Society? You can find more information about us on our "Join Arch Society!" page including our mission, who we are, why you might want to join, and how to join Arch Society. We also have information on UGA's Involvement Network. Any of these platforms are a great way to learn more about our organization. We also encourage you to check out our social media! We are @UGAArchSociety on Instagram and Facebook. Additionally, you can email archsociety@uga.edu to connect with our advisors and current Arch Society members.
Interested in giving back to UGA? Learn more about joining Arch Society here!