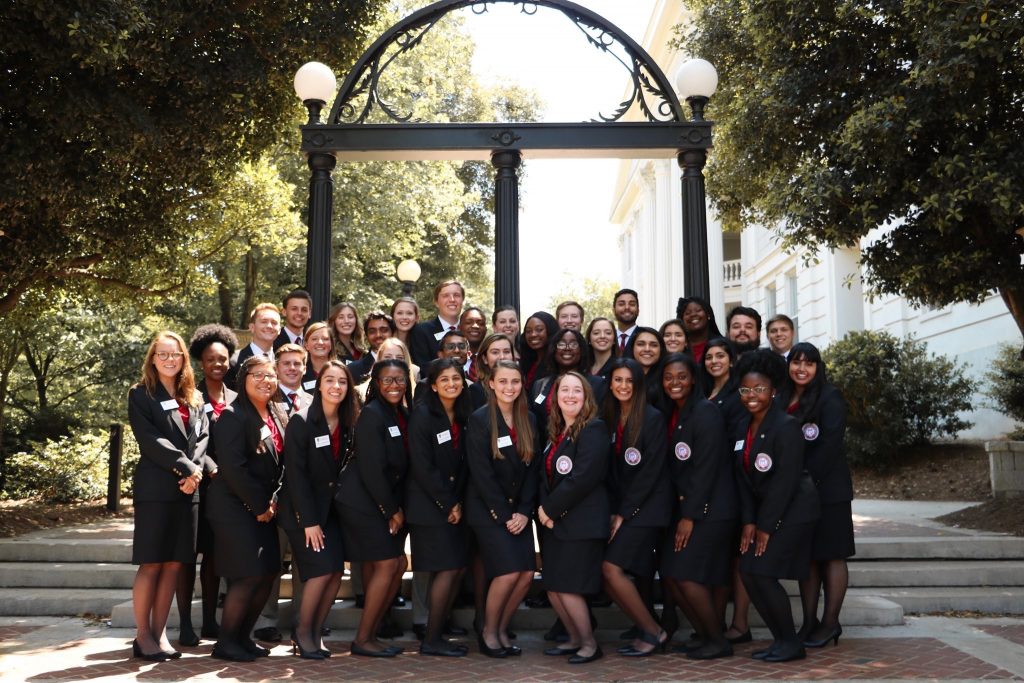 Fred Brown Memorial Award
It was once said of Fred Brown who lived from 1943-1992 that "He inspired student leadership at The University of Georgia."
At each year's Induction ceremony, an Arch member is chosen by his or her peers to receive the Fred Brown Award.

Fred Brown was a creative and energetic educator who set a standard for excellence in student programming and leadership development that endures at the University of Georgia today. 

Following graduation from The University of Georgia in 1967 with a bachelor's degree in fine arts, Fred taught in Athens public schools before he joined the Department of Student Activities as a graphic artist and program advisor. In 1976, he was named Assistant Director of Student Activities, and served in that capacity until 1979 when he returned to Taylor County to establish a successful regional arts and crafts festival.

It was during Fred Brown's association with the UGA campus in the late sixties and throughout the seventies that he profoundly influenced the lives of student leaders, creating energy in student life that will never be forgotten by those who came in contact with him. Working within the confines of the aging Memorial Hall (before the Tate Student Center was built), Fred used his fertile imagination and devoted personal efforts to engineer special events, innovative programs and exciting activities of a quality and scale that resulted in active involvement by a student body that was rapidly increasing in numbers at that time.

His abilities benefitted numerous campus organizations and clubs, including the golden Key Honor Society chapter which he established on campus in 1978.

Even after Fred's departure from campus, during the years spent working on his arts festival, he continued to stay involved with the University, supporting its alumni programs and maintaining contact with former students he had advised. His last years were characterized by poor health due to a heart condition, but Fred's spirit and love of life remained undiminished to the day of his death on August 31, 1992.

The University's Arch Society was in its infancy when Fred Brown's life ended. But the leadership ability and public service qualities espoused by Arch Society members today embody those traits that Fred admired and encouraged in his student affairs career at UGA. The Fred Brown Award, given to an Arch Society member for outstanding contributions to the campus, is a fitting personal tribute to an individual who loved the University and who worked tirelessly to inspire leadership among its student body.
Recipients
Nia Freeman (2019-2020)
Seonghyun Cho (2018-2019)
Linda Tejada (2017-2018)
Juhi Varshney (2016-2017)
Bert Thompson (2015-2016)
Kristen Lemaster (2014-2015)
Lesley Rios (2013-2014)
Marshall Mosher (2012-2013)
Juliette Collins (2011-2012)
Will Ginn (2010-2011)
Allie Chambers (2009-2010)
Beau Gilmore (2008-2009)
William Draper (2007-2008)
Mehual Shah (2006-2007)
Matthew Wilson (2005-2006) 
Kenneth L. Johnson (2004-2005)
Keane Johnson (2003-2004)
Corey Dortch (2002-2003)
Laura Pearson (2001-2002)
Deb Allen (2000-2001)
Renita Jain (1999-2000)
Melanie Davis (1998-1999)
Charlie Bethel (1997-1998)
Sarah Carr (1996-1997)
Rob Teilhet (1995-1996)
Kim Wuenker (1994-1995) 
Tom Cochran Service Award
"Arch Society provides its members with an opportunity to meet people they might not have otherwise met, go places they might not have otherwise gone, and see this University from a perspective they might not have otherwise had." – Mr. Tom Cochran

The Tom Cochran Service Award is given to the Arch Society member who spends the most hours serving the University. The award was created in the spirit of the founder, Mr. Tom Cochran, who dedicated 28 years to the University and to the students he loves. His passion inspires students in their efforts to blaze new trails and leave their legacy on campus.

Mr. Cochran earned his undergraduate degree from the University of Georgia in Philosophy and Religion and received his Theology Degree from Emory University.
He began working for UGA in 1974 as a Student Activities Accountant and later moved to the Vice President's Office. Mr. Cochran and his wife, Frances, have been married for nearly 35 years and have two children and one grandchild. Mr. Cochran retired from the University of Georgia on November 22, 2002. Arch Society will continue to serve the University with humility and dedication made famous by Mr. Cochran to further continue his legacy.
Recipients
Armando Roche (2019-2020)
Keegan Householder (2018-2019)
Isabel Carvallo (2017-2018)
Gio Navarro (2016-2017)
Sena Ahiayibor (2015-2016)
Kegan Antone (2014-2015)
Christen Baskerville (2013-2014)
Silki Modi (2012-2013)
Jonathan Trebble-Greening (2011-2012)
Alan Goodno (2010-2011)
Eddie Lovett, Jr. (2010-2011)
Alan Goodno (2009-2010)
Shruit Suresh (2009-2010)
Victoria Lee (2008-2009)
Mason McFalls (2008-2009)
Kevin Killips (2007-2008)
Kathryn Otorsina (2006-2007)
Mycla Palmer (2005-2006) 
Keauna Gregory (2004-2005)
Linton Mann (2003-2004)
Keane Johnson (2002-2003)
Paula Acree (2001-2002)
Laura Pearson (2000-2001)
Kyle Wingfienld (1999-2000)
Heather Nelson (1998-1999)
Peyton Dumleton (1998-1999)
The Arch Society provides service to the University of Georgia as official hosts and goodwill ambassadors. The People of the Arch seek to serve the University of Georgia at all functions where it is desired to have students welcome guests and visitors to the University of Georgia.
Interested in giving back to UGA? Learn more about joining Arch Society here!