STUDENT AFFAIRS STUDENT/FACULTY ENRICHMENT FUND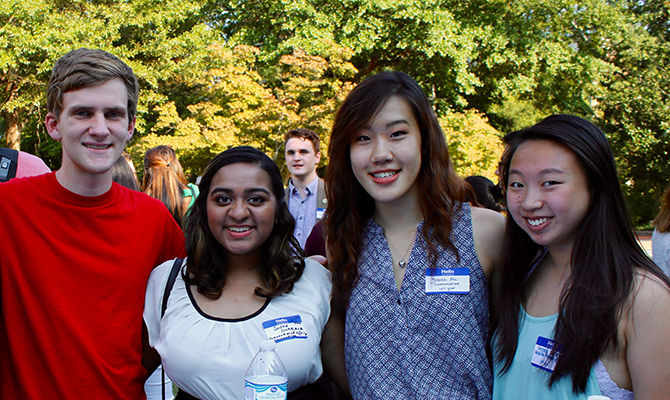 Beginning July 1, 2009, use of the Student/Faculty Enrichment Fund by a faculty member requires approval prior to the event. Please click on the "Approval Form" to the right and click "Submit" once completed.
The Enrichment Fund encourages faculty to host voluntary, out-of-class social gatherings with students whom they are teaching.
Research on undergraduate student learning has repeatedly substantiated the fact that the most effective educational environment for college students is one in which there is meaningful interaction between faculty and students in settings outside the traditional classroom. Regular out-of-class interaction enhances the collegiate experience by allowing students to develop meaningful relationships with adults who play significant roles in their lives at the university.
With this in mind, President Michael F. Adams created a fund to be used in support of voluntary out-of-class gatherings hosted by faculty, preferably in their home.
The following guidelines are to be followed where financial support is to be provided:
Beginning July 1, 2009, use of the Student/Faculty Enrichment Fund by a faculty member requires approval prior to the event. After the event, please submit an expense report in UGA Financial Management system according to updated instructions on the reimbursement form.
Full-time tenured or tenure-track faculty or full-time non-tenure track teaching faculty are eligible to use this fund. Temporary and part-time faculty should submit their application online and a subsequent email from their respective dean that will be reviewed on a case by case basis.
Students should be members of a current undergraduate or graduate class taught by the requesting faculty member as listed in the UGA Bulletin or schedule of classes. Student organizations or clubs advised by faculty members do not meet the criteria of this fund.
Student attendance and participation in such out-of-class gatherings shall be voluntary.
Gatherings for which faculty seek reimbursement should not stand in place of a regularly scheduled class time. The activities are intended to be voluntary, informal social gatherings that encourage faculty and student interaction rather than facilitated teaching and learning associated academic materials.
There shall be no alcohol consumed at these gatherings.
Reimbursement for an event will be "after the fact" and shall not exceed $14.00 per student including tax/tips for the number of students who attend and $14.00 for the hosting faculty member. Maximum expenditure allowed per gathering is $700.00 unless prior approval is obtained.  Reimbursement is limited to one event per class per term. Itemized receipts and an official Athena or eLc class list (with 810's redacted) of participants are required for reimbursement. A single reimbursement to the faculty member will be the means of payment from the fund.
This fund will not reimburse "field trip" activities or food associated with class related field trips.
This fund will not reimburse workshop or orientation meals, administrative meet-n-greet events, etc.
This fund will not reimburse for combined gatherings of multiple faculty members' classes.
Please contact Brandie Pentecost (brandie@uga.edu) for more information about the Student/Faculty Enrichment Fund.
Student Affairs Faculty Staff Enrichment Fund Forms
All proposed events should follow the Governor's Executive Orders and guidance from the Department of Public Health.
Click here to go to the Application Form.
Reimbursement
It is recognized that with the diversity of educational offerings provided by the University of Georgia there may be a need to modify the guidelines to meet special circumstances. Inquiries as to possible exceptions should be addressed to Amanda Patterson, Assistant Vice President for Student Affairs, 306 Memorial Hall prior to incurring expenses.
An expense report should be completed after the gathering to indicate attendance and amount requested for reimbursement. Itemized receipts and list of participants must be attached to support the expenditures. Please do not purchase personal items in the same transaction as reimbursable items.  
The reimbursement form below has UPDATED instructions for submitting an expense report in the UGA Financial Management System.