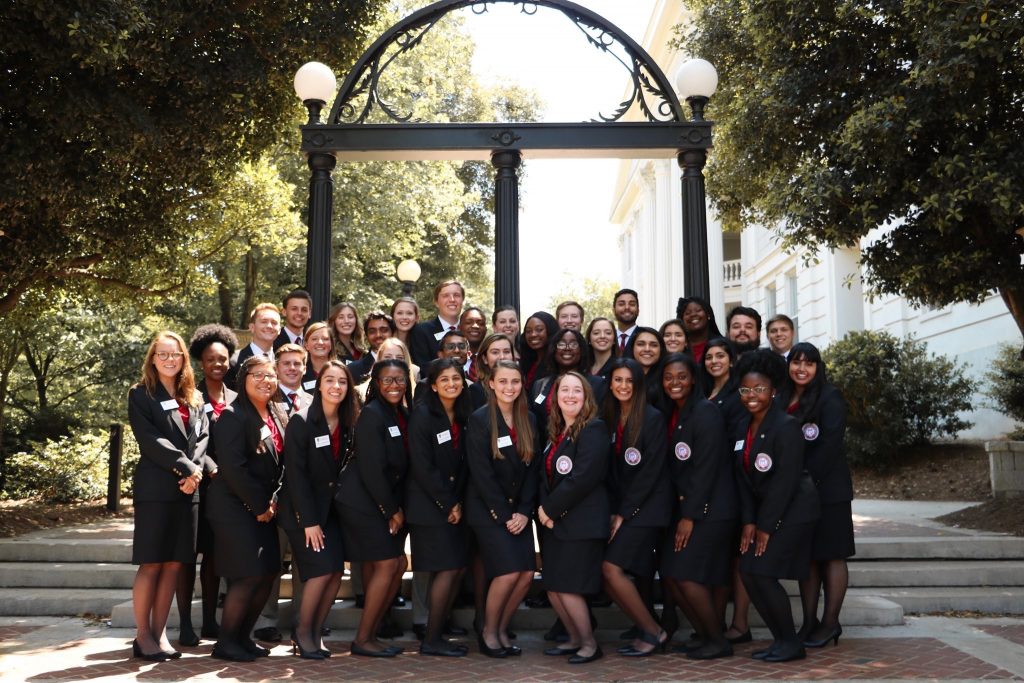 Are you ready to join Arch Society?
Welcome to Arch Society's official recruitment page! We are so excited that you are interested in joining Arch Society. Each year we induct a whole new class of students and we would love for you to be apart of this amazing experience! Below we have more details about the organization, ways you can learn more, and information about our selection process. Please explore this page and if you have any questions about joining Arch Society, please contact our Vice Chair of Committees (archsocvcc@uga.edu).
What is Arch Society?
Arch Society is a unique student organization for students in their third year or higher. Arch Society provides service to the University of Georgia as official hosts and goodwill ambassadors.
As the official hosts and goodwill ambassadors, we seek to live out our mission, to serve the University of Georgia by sharing Arch Love, by giving tours to campus visitors and new UGA community members and assisting at university events like Commencement. In all of our interactions, we share our own individual and diverse experiences of UGA, highlighting the amazing opportunities here and demonstrating the value and promise of higher education. By telling our stories, we share our passion for UGA, making our love visible through service.
Additionally, Arch Society is a meaningful leadership experience. We attract leaders from across campus which gives members the experience of being "leaders among leaders." We receive hands-on advising from the Office of the Vice President for Student Affairs, helping us to further develop as leaders and integrate our leadership experiences from across campus. Arch Society is such an impactful experience, we are established as an Experiential Learning (EL) opportunity.
And, beyond our foundations in service and leadership, we are one big family! While members come from many different UGA experiences before joining, every class of Arch Society describes the strong bonds of friendship and connection they forge with other Arch Society members through training and service. We call this Arch Love and aim to share this at every opportunity. Arch Society becomes a huge support system over the course of the year, with mentorship from returning members and alumni. And our internal committees help bring members together through social gatherings, major celebrations, and shared community service and philanthropy events aimed at a common cause.
While we've done our best to describe Arch Society here, we recommend reaching out to us so we can better convey the whole experience of Arch!
Why Join Arch Society?
Are you looking for to give back to UGA? Maybe searching for a new way to serve? Or hoping to grow beyond your current leadership experiences? Or even looking for a new group to connect to?
Arch Society provides for all of these needs as we exercise our mission, to serve the University of Georgia by sharing Arch Love, and serve as the official hosts and goodwill ambassadors. Members from every class have described how impactful this experience has been, transforming them and elevating their time at UGA.
Recruitment & Membership Timeline
Arch Society begins our formal recruitment efforts in November each year and interviews interested students to join the organization at the beginning of the spring semester. We invite selected students to join Arch Society with a formal letter in February and induct our new members in April after several weeks of training. New Arch Society members begin serving the university at the end of the spring semester and serve until the next class is inducted in the following April.
Recruitment is currently closed. Check back here for when applications open in November 2022!
Learn More About Arch Society
Social Media — Please follow us on Instagram (@ugaarchsociety) and Facebook (@UGAArchSociety) to see current Arch Society experiences and learn about life in the blazer!
Recruitment Events:

Recruitment events are a great opportunity to learn more about Arch Society directly from current members. See the list below to attend an upcoming event.
Information Sessions:
Information Session dates and times will be released later in Fall 2022.
Contact Us — Don't hesitate to reach out to us if you have questions about joining Arch Society! Please email our Vice Chair of Committees (archsocvcc@uga.edu). They are happy to tell you more about serving with Arch Society! 
Selection Process
So you have learned more about Arch Society and decided we are the experience for you, what's next? Please see the outline below for the steps to becoming a member of Arch Society and note that bold items are required to join Arch Society. 
Full details of the selection process are listed in the Arch Society Constitution and Bylaws, available here and on the Involvement Network platform. 
Arch Society 2023-2024 Selection Information (New Dates Available November 2022)
Arch Society
The Arch Society provides service to the University of Georgia as official hosts and goodwill ambassadors. The People of the Arch seek to serve the University of Georgia at all functions where it is desired to have students welcome guests and visitors to the University of Georgia.