STUDENT AFFAIRS DIVERSITY FUND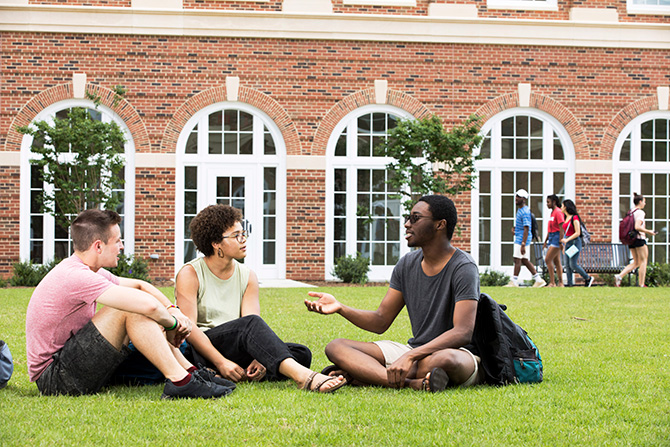 The Vice President of Student Affairs has established a fund for campus diversity initiatives. The goal of the diversity fund is to support initiatives that promote understanding, inclusion, and acceptance within the University of Georgia community. Campus departments and student organizations may request money from the fund in order to support these initiatives. Representatives from the Division of Student Affairs Student Advisory Board administer the fund and review requests for funding.
Applications for the Student Affairs Diversity Fund for the 2023-2024 academic year are open.
• Complete the Diversity Fund Application to be considered for funding. **Incomplete requests will not be considered.
• Initiatives shall include, but are not limited to, cultural celebrations, educational speakers, diversity awareness campaigns, advancement of underrepresented populations, cultural collaborations, and other collaborative events.
• The UGA student body must be the primary audience of these diversity initiatives.
• The fund is open to initiatives by any student organization or campus department.
• Proposals should be able to demonstrate that the initiative will benefit the campus community.
• The fund is intended to be used toward essential costs of the initiative including but not limited to honoraria, speaker travel costs, initiative-specific printing costs, and space reservations. Note: Registered student organizations are no longer responsible for space reservation fees in Tate Student Center or Memorial Hall. However, technical costs, lighting, tables, etc., are still charged. Please visit https://tate.uga.edu/campus-reservations/reservation-pricing/ for more information.
• Unintended uses of the fund include, but are not limited to, continuous operating expenses (printing, regular meeting room reservations, etc.), gifts, awards, member recognition events, and events that are not open to all UGA students.
• Maximum amount awarded per initiative is $500 (average award $400-$500).
• Exceptions to requests for more than $500 may occur on a case-by-case basis. If you request more than $500, provide a supplemental statement with justification of request for more than maximum amount.
• The Student Affairs Diversity Fund is fully funded by Student Activity Fees and all initiatives and expenses must comply with the Student Activity Fee General Guidelines.
• Only 20% of Student Activity Fees may be expended on food. Please make sure that if this request is for food, that you stay under the 20% of your initiative's budget. Requests for food purchases should be made only when food is an essential component of the program.
• Student Activity Fees cannot be used for a charitable event and/or fundraising project.
• Considerations for each proposal may include prior requests, availability of funds, compliance with guidelines, overall benefit to student body, and relation to pertinent campus or current issues.
Applications for the Student Affairs Diversity Fund for the 2023-2024 academic year are open. 
Note: If approved, you will receive email notification of the amount funded and the specifics of how to access these funds.  NO FUNDS WILL BE REFUNDED BACK TO STUDENT ORGANIZATION ACCOUNTS.  Any monies not utilized from the award will be returned to the diversity fund account.  Approval needs to be given before the organization can access the awarded amount and before the initiative occurs.  The funds must be spent in accordance with the approved proposed budget.
All receipts/invoices should be sent to fund administrators within one week of the initiative.  Additionally, the online Diversity Fund Post-Event Assessment form must be completed within one week of the initiative.
If proper procedures are not followed correctly and in a timely fashion, payment of invoices and reimbursements will be delayed. These delays will be weighed heavily toward future requests.