SUPERVISOR OF THE YEAR AWARD
Supervisor of the Year Award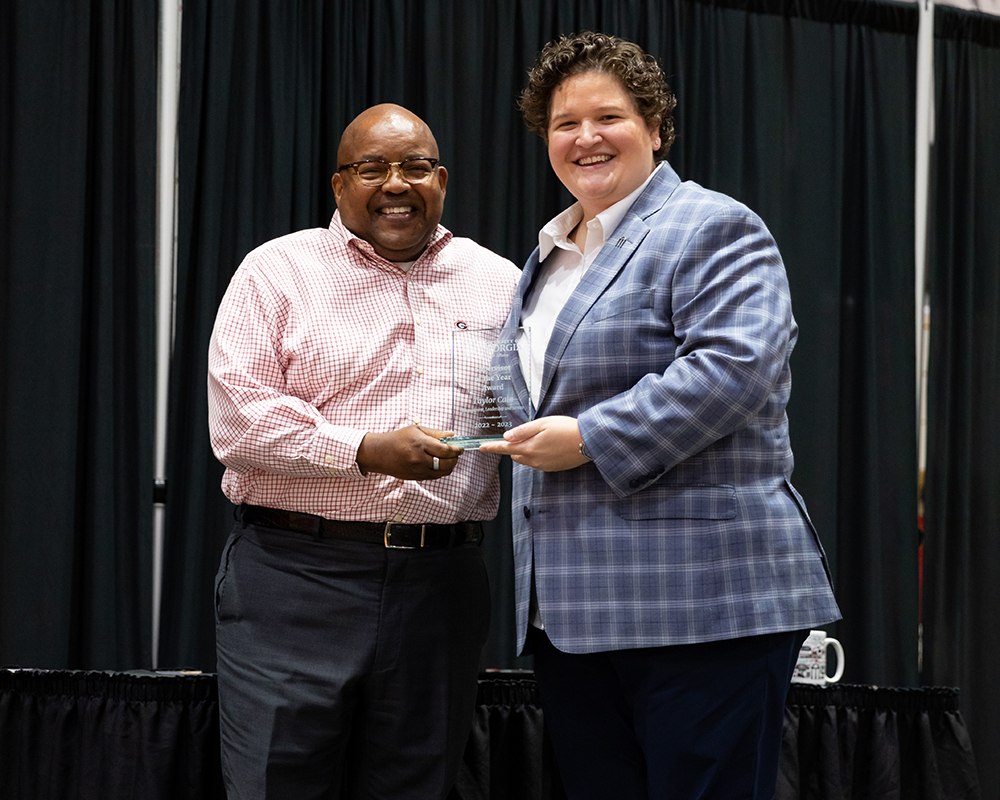 Taylor Cain, Engagement, Leadership & Service
2022-2023 Supervisor of the Year Award
Here is what Taylor's nominators said about her:
 "I am writing to nominate Taylor Cain, Assistant Dean of Students and the Director of Engagement, Leadership, and Service, for supervisor of the year. Over the course of my time as a professional, I've had numerous supervisors and Taylor is by far one of the best. Taylor leads our team with empathy, humility, and authenticity. The overall success of our department is due largely to her leadership, even though Taylor would argue it's because of us.
I started my role in June 2022 and was one of 5 new full-time staff to start in our department over the course of a month. Throughout the Summer, Taylor was intentional in our training and made sure to check in with us frequently. She gave us structure but also allowed us to learn on our time and in our own way. When I started in June, I was new not only to my role but also new to the functional area I now work in. Taylor guided me through my transition and was there to encourage and support me. Having worked in my role previously, Taylor is able to provide me context when needed but always allows me to make my own decisions. She has high expectations, but ensures she is providing the resources and support to her staff so that they are able to meet those expectations. She challenges us to continually learn and grow, and she does the exact same. Whether it's working on her PhD, serving on committees or leadership roles, or attending trainings she is always learning and improving. She is incredibly invested in the continued growth and development of our staff. She encourages staff to be involved in leadership roles within professional organizations and be an active member of the UGA community. She advocates for our team and prioritizes providing us with professional development funds to attend conferences and/or obtain certifications that will benefit us in our current and future roles.
Taylor directly supervises 5 full-time staff and a graduate assistant. She effectively manages all of our individual needs while ensuring the needs of the team and department as a whole are also met. She takes time to get to know her staff and ensures they know that they are cared for inside and outside of work. It is evident that Taylor values a positive work environment as she builds in time monthly for us to gather as a team to do bonding activities. Those activities range from grabbing dinner after work to holiday potlucks to pumpkin painting during a staff meeting. Taylor knows the importance of establishing community within team and ensures she cultivates a sense of belonging for our department.
I've known that Taylor is an incredibly empathetic and compassionate supervisor, but over this past week she's shown just how understanding she truly is. I've been dealing with some personal things lately, and Taylor has been so accommodating. She's given me grace and allowed me to take time for myself when I needed it. She's checked in often to offer support and just let me know she's here for me. She's been flexible with my work schedule so that I'm able to take care of things outside of work. I could not be more grateful to have her as my supervisor during this challenging time.
Taylor consistently shows up for her team and has been a source of stability for our department over the last few years. We could not be more grateful for her leadership and continued guidance. I am confident there are numerous great supervisors within this division, but I truly believe Taylor Cain deserves to win Supervisor of the Year. Thank you for your consideration."
"Taylor is a visionary leader. She has an innate ability to see possible successes of the future and strategize to get her team moving in that direction. She is mission-oriented; in alignment with where the University, the Division of Student Affairs, and Engagement, Leadership, and Service are and are wanting to go. She is not only able to envision success in every area she touches, but is also able to motivate her team and make monumental progress toward goals. She is consistently dreaming big, dreaming collaboratively, and dreaming forward for the ELS, for Student Affairs, and for UGA, and she challenges and empowers her team to do the same.
Taylor's ability to promote the successes of these areas is notable enough, but the way that she does so while intentionally supporting each of her staff members individually is admirable. She's able to analyze individual strengths, interests, and growth points, and find a way to ensure everyone is working toward success in a way that highlights their natural abilities and contributions to the team while also stretching and refining skills that need more development. Her genuine care for each member of the team is felt deeply, and plays a catalyst role in our devotion to this office and this work. Taylor has also worked to develop a positive and dynamic office culture. She intentionally creates time and space for team building and development, and she has made the ELS a place we are excited and grateful to work.
We would be remiss not to mention that during a period of significant staffing changes for our department, Taylor excellence in both supervision and leadership shone as she guided each of us through these changes. It was a period of time that could have felt tumultuous or uncertain, but Taylor focused on ensuring that each member of our staff had the support, the guidance, and the stability that they needed during this time. The quality of our work and our programs did not waiver, and more importantly neither did the positive work environment. We have now welcomed several new professional staff members to the team, and Taylor has seamlessly integrated these new members into the team and guided us in developing new relationships and dynamics. Her leadership throughout this past year and her ability to thrive in the face of change has been truly remarkable.
The ELS's goal is to ensure that students make the most of their experience at UGA, and Taylor's work and her efforts are clearly grounded in this mission. However, it is evident that this goal is further extended to her team, and her approach to supervision is built upon a foundation of ensuring our team also makes the most of their experience at UGA. She demonstrates this commitment daily in how she invests in members of our office to ensure that we are growing and developing, becoming better professionals through our work and experiences. We hope to see her recognized for these efforts, and we thank you for your time in considering her for Supervisor of the Year."
Award Criteria
Recipient: Individual
Is your supervisor amazing? Do you work with a supervisor that is committed to the excellence of their employees?
This award is designed to recognize a UGA Student Affairs staff member who excels at supervising their staff and department. Individuals nominated for this award must currently supervise staff, which may include undergraduate students, graduate students, part-time employees, and/or full-time employees.
Nominations will be evaluated according to one or more of the following criteria:
Investing in continued growth and development of staff
Promoting the success of the team, department, and UGA Student Affairs, while supporting the needs of individual staff
Establishing a positive and motivating work environment
Positively impacting, engaging, and/or supporting the Division and UGA community
Nominee serves as a supervisor in UGA Student Affairs at time of nomination
Nominate Someone for a Staff Award!
Staff Awards
The Student Affairs Staff Awards, given to deserving staff across the division and the University, recognize outstanding accomplishments and leadership in student affairs at the University of Georgia.
Contact Us
408 Memorial Hall
University of Georgia
Athens, GA 30602
Ellie Hansen
Assistant Director for Talent Management
lnhansen@uga.edu