Commitment to an Inclusive Community Award
Commitment to an Inclusive Community Award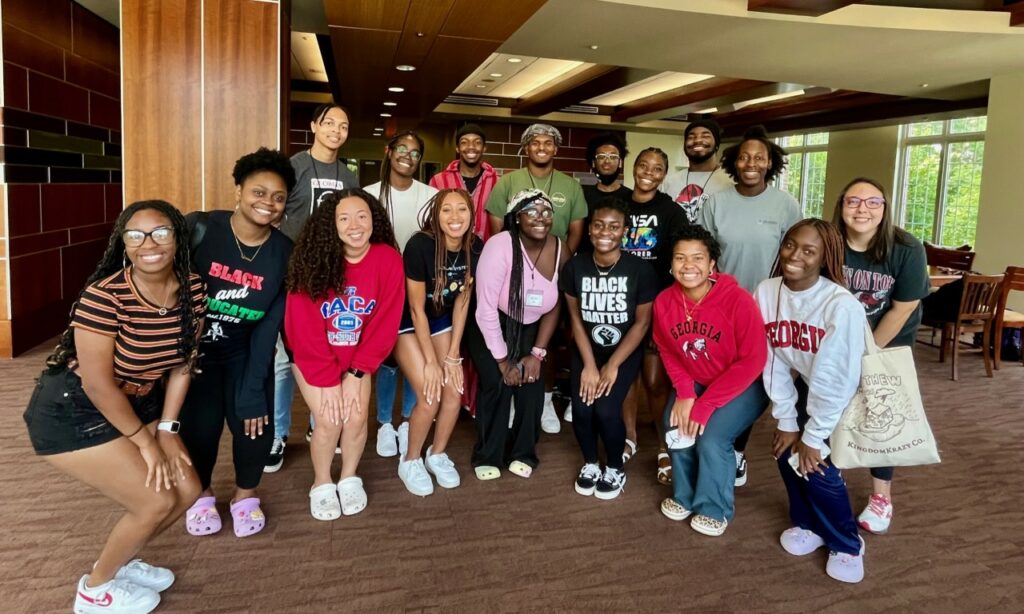 C.L.A.S.S. Advocates, University Housing
2022-2023 Commitment to an Inclusive Community Award Winners
Here is what was said in the nomination for the C.L.A.S.S. Advocates:
"When thinking about a group that works day in and day out to create inclusive communities, the C.L.A.S.S. Advocate program is the first thing that comes to mind. This program is made up of a group of 17 student staff members within University Housing with the purpose of "aiding in the retention and academic success of African American students who reside in University Housing while building a more inclusive campus community". The CA program is the definition of the type of group who should win this award by mission and purpose alone, but what makes this group even more special and worthy of this honor and recognition is the actions they have taken this year to implement and live out this purpose.  The CAs within University Housing live the mission and work tirelessly in their roles to advance awareness of DEIB work, create inclusive communities in our residence halls, advocate for and support Black students, educate all residents on respect and interpersonal skills, and so much more. 
In pursuit of raising awareness of DEIB work and creating a safe place for all residents to engage in educational experiences, the CA team has worked through the last year to create monthly self-directed learning opportunities for students in the form of bulletin boards.  Each month the CAs create bulletin boards dedicated to specific learning outcomes along our residential curriculum. Examples of educational topics the bulletin boards have covered include: the big 8 social identities, dimensions of well-being, belonging and identity, cultural competence, and intersectionality.  These boards have engaged hundreds of residents throughout the year with creative and innovative messaging to drive home the educational material. 
Creating inclusive communities requires intentionality and determination and this CA team has exemplified these qualities while planning events and building community in the residence halls.  During the fall semester, the CAs held over 30 social events along in various communities reaching students who may not otherwise have felt seen, heard, or connected.  The CA team also worked to plan a campus wide CA Signature event which attracted dozens of residents and students from across campus.  The event focused on building community and creating cross campus connections. Through that event, the CAs were able to effectively contribute to the sense of belonging for Black students. Beyond the signature event, the CAs have collaborated all semester through partnering on events such as #NaturalNovember. This was a 4-week event that provided learning opportunities for students. CA Niyah Brown led several in the CAs in hosting events that provided space to learn about natural hair and to talk about hair-ism with a UGA faculty member. The thought and intentionality of each event provided space for students to engage in meaningful conversation while also creating a sense of community. 
Connection is the root of belonging and support and the CAs work constantly to create connection in their communities.  One strategy they use to do this is through intentional conversations, CA Dawg Chats.  The CAs during the fall semester had over 250 individual chats with 180 unique Black students in our residence halls around topics such as belonging, academic support, transition to campus, and much more. These CA Dawg Chats are an invaluable tool in helping to support and advocate for black students in our spaces. "
Award Criteria
Recipient: Individual or Group
Do you have a coworker who strives to make their work more inclusive of others?  Did you collaborate with another department/area to enhance a program or service to ensure it was more accessible for others?
This award recognizes an individual or a group of individuals within UGA Student Affairs who have demonstrated a commitment to diversity and inclusion in consideration of affordability, ability, identity, and access.
Nominations will be evaluated according to one or more of the following criteria:
Advancing diversity and inclusion awareness, knowledge, and skills within the UGA community
Developing innovative methods for increasing and valuing diversity through wide-ranging activities or systems
Creating opportunities for students and/or staff to foster respect across difference
Promoting the advancement of equity and inclusion in daily work, institutional policies, and practices
Advocating for the interests of underrepresented and marginalized populations
Establishing or participating in staff development opportunities intended to increase understanding and awareness
Individual nominees must serve as a current UGA Student Affairs staff member at time of nomination – at least one person in a group nomination must serve as a current UGA Student Affairs staff member at time of nomination
Nominate Someone for a Staff Award!
Staff Awards
The Student Affairs Staff Awards, given to deserving staff across the division and the University, recognize outstanding accomplishments and leadership in student affairs at the University of Georgia.
Contact Us
408 Memorial Hall
University of Georgia
Athens, GA 30602
Ellie Hansen
Assistant Director for Talent Management
lnhansen@uga.edu