Dr. Michelle Garfield Cook Inspires Future Student Leaders 
As students gathered around the large mahogany table, leaning in to listen to Dr. Michelle Garfield Cook, one saw the dictionary definition of captivation. Dr. Cook, Vice Provost for Diversity and Inclusion and Strategic University Initiatives, met on Wednesday, March 23rd with 14 students. The Office of the Dean of Students hosts "Gettin' Down with the Dean" events where students and a guest speaker meet under different roofs across campus to listen and absorb thoughtful stories found right here in our Athens campus community. To say students were thoughtfully absorbing Dr. Cook's words is mildly underselling her profound impact.
For those unfamiliar with her work, Dr. Cook plays a vital role in elevating the recruitment, retention, and success of underrepresented minority students on campus. She plans and implements programs that span across campus while also providing strategic leadership to the Office of Institutional Diversity. During her time here, UGA has received national recognition for its work in diversity, earning the INSIGHT Into Diversity Higher Education Excellence in Diversity (HEED) Award for four consecutive years. The University's Certificate in Diversity and Inclusion for faculty and staff also has been recognized as a national model. Since 2005, she has been the co-principal investigator on the National Science Foundation- Louis Stokes Alliance for Minority Participation program, which has helped quadruple the number of degrees conferred to underrepresented minorities in STEM fields at UGA.
When she speaks, we should all listen.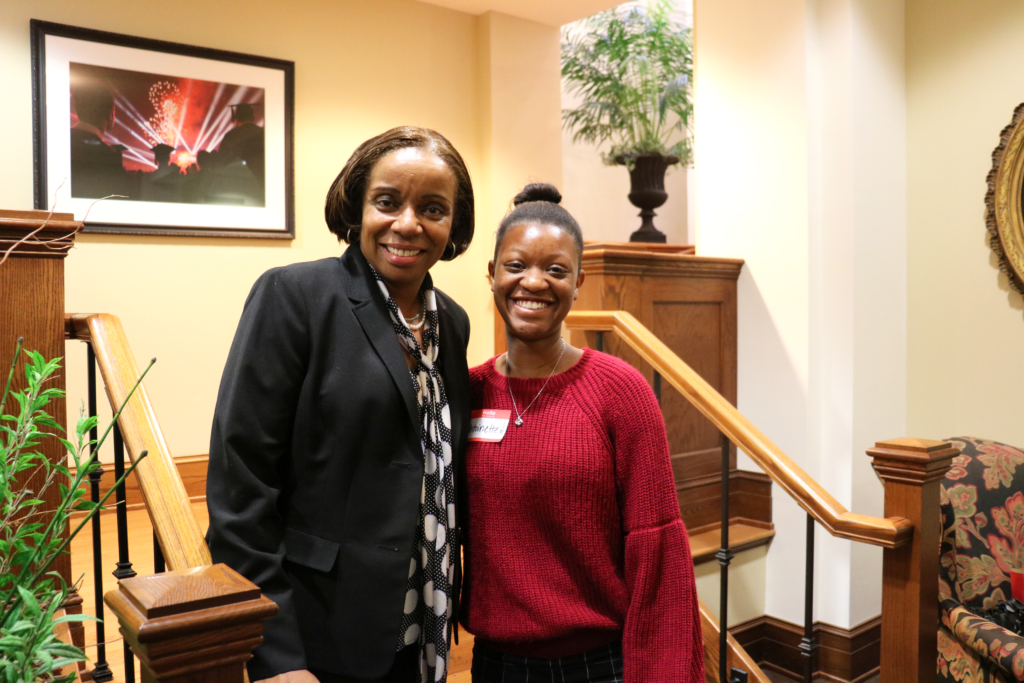 Antoinette James, a current first-year political science major shared, "I really enjoyed hearing Dr. Cook's story. She is an extremely intelligent and well-versed woman who is passionate about what she does. She has inspired me to continue working toward achieving my goals, staying passionate about my current interests, while also giving other things a chance, even if it seems unconventional at first. Hearing her speak has really inspired me!"
One story Dr. Cook shared was the impact her college counselor had on her education. Based out of Atlanta, her high school counselor repeatedly encouraged her to apply to Princeton. Dr. Cook recounted to the group how her counselor called "Michelle to the office" over the school's intercom. The counselor had her fill out an application there in front of them. Today, she's a proud alumnus. She also holds a master's degree in African-American Studies from Yale University and a doctorate in history from Duke University.
She then shared her experience working with her previous coworkers as an associate dean in UGA's Franklin College of Arts and Sciences where she was responsible for student academic affairs. She highlighted during her time there, her mentors were four older, white males. Together they and their respective families looked after Dr. Cook—they embraced her as if she was one of their family members. If the five of them needed to travel, they'd debate "which caravan is Michelle riding in?" ensuring she was never left behind and always looked after. Any time she referred to the Franklin College of Arts and Sciences that Wednesday, it was from the lens of "they were like family."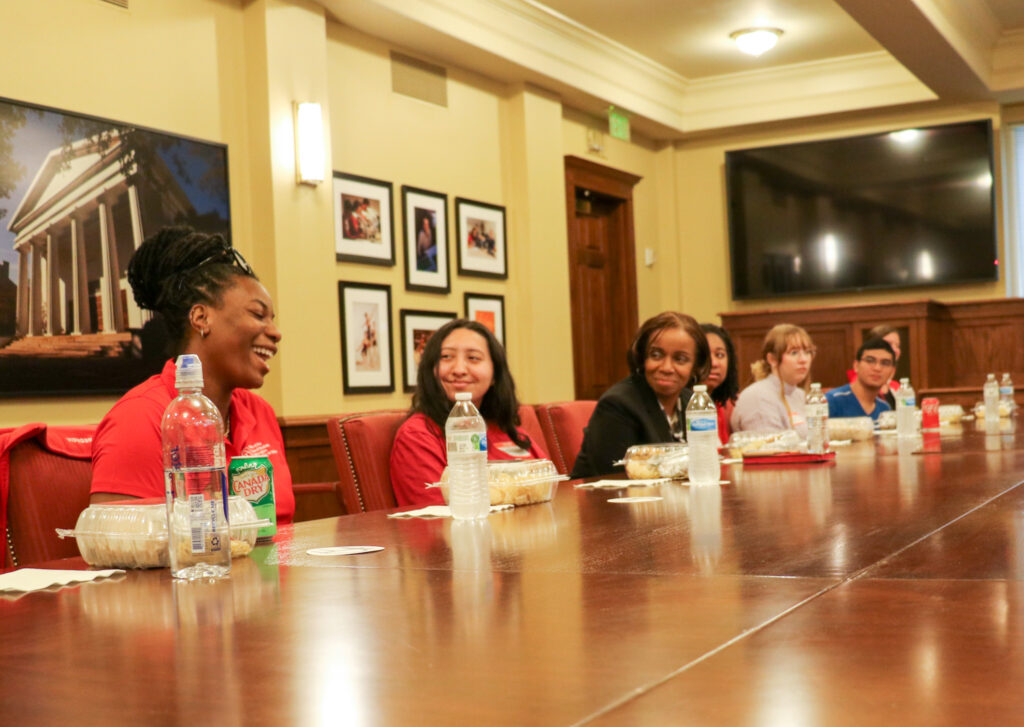 "The Leadership Lunch with Dr. Cook was nothing short of amazing!" explains Chidimma Anunobi, a Senior in Biological Science, "We discussed topics ranging from diversity and inclusion to advice for success throughout post-secondary education and beyond. It was my first-time meeting Dr. Cook, and she was awesome. I look forward to hearing more from her and her groundbreaking strategic initiatives that will be implemented in the near future!"
For many students, it was Dr. Cook's diversity and inclusion initiatives that felt most inspiring. Jessica Green, a fourth year English major stated,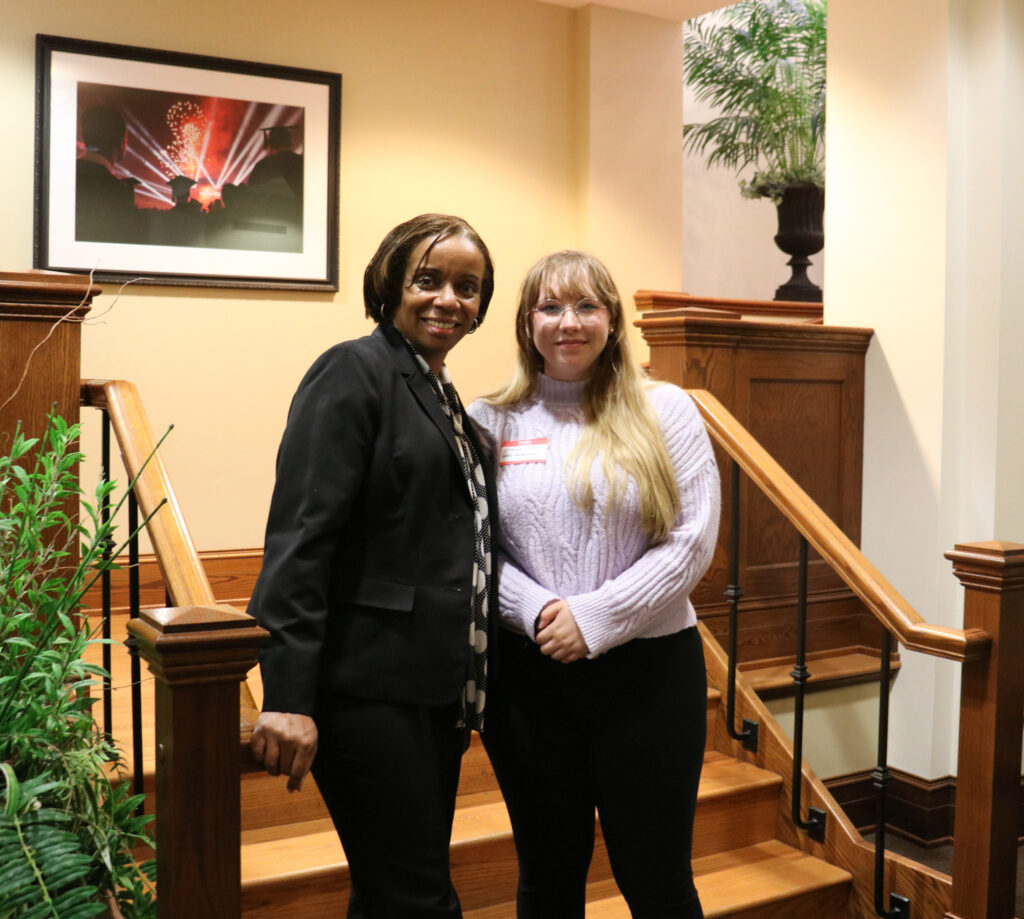 "Meeting Dr. Cook was really an honor. I want to work in the field of student affairs and focus specifically on diversity, equity, and inclusion work, so meeting her was really helpful."
Perhaps what captivated students the most was Dr. Cook's evident passion for building community. Her vision of creating a place where everyone belongs will benefit both UGA and the greater Athens Community.
The Dean of Students Office hosts multiple events, like this leadership lunch, several times each semester. They pick different activities including lectures, performances, community and athletic events to engage students in the life of the University. Those who want to receive more updates on the next "Gettin' Down with the Dean," or other similar events within the Dean of Students Office, can follow the Office of the Dean of Students on Instagram, Facebook, or their weekly email announcements.
Written by Amber George, Assistant to the Dean of Students for Marketing and Communications