SUPPORT STAFF MEMBER OF THE YEAR AWARD
Support Staff Member of the Year Award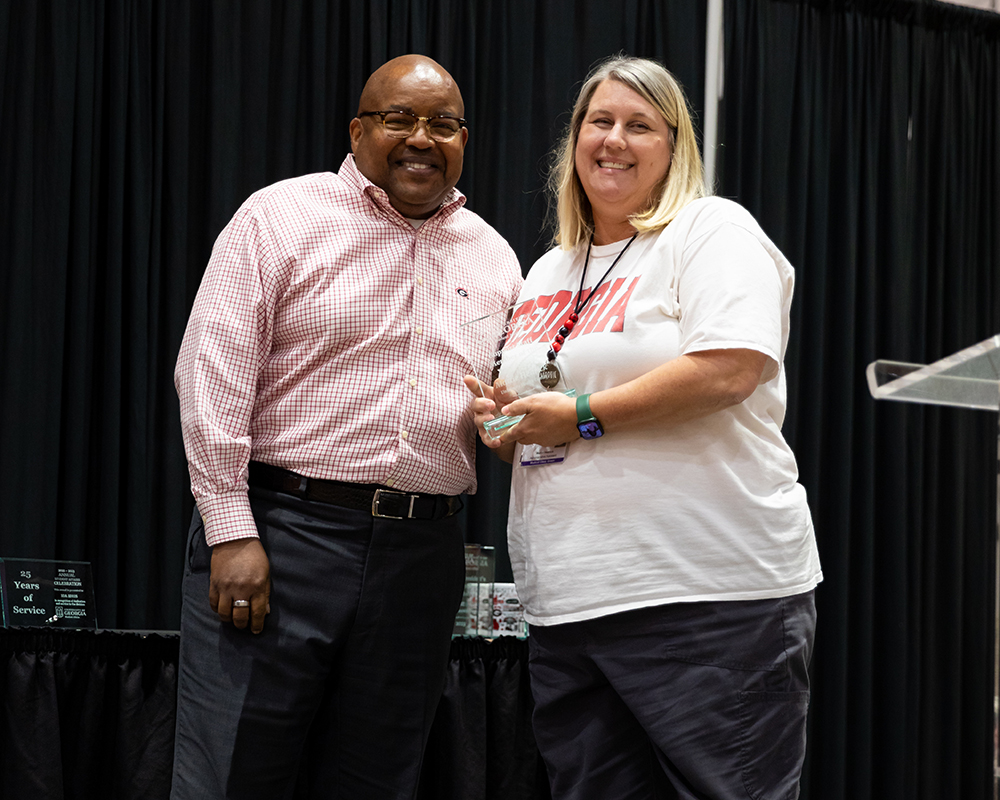 Martie Hedrick, University Health Center
2022-2023 Support Staff Member of the Year Award Winner
Here is what Martie's nominators said about her:
"Dear UGA Student Affairs,
I am very pleased to write this reference letter expressing my highest recommendation for Martha (Martie) Hedrick for selection as this year's Outstanding Support Staff Member of the Year Award. Martie has been integral to my success at the University Health Center. I started at the University Health Center in September 2022, and Martie quickly became an advocate for me as I transitioned into my role on the Medical Services team. She helped me to navigate the many changes in the referral process for my position. She was quick to adapt to each challenge thrown her way. Martie goes above and beyond the responsibilities of her job without being asked. Each morning she has my student paperwork ready for me without me having to ask. She is responsible for scheduling students for the green team at the University Health Center. All our appointments look a bit different, as it is a team with doctors, a therapist, and a dietitian. She has learned the ins and outs of each schedule and has learned how to tell students the information required for the various appointments concisely. She effectively balances many tasks at once, all with a smile on her face. She greets each student warmly, which can make a world of difference when someone is not feeling their best. She makes my days better when I have a difficult caseload. I would be lost without an assistant like Martie and feel lucky to have her as a member of our team. Martie is an outstanding representative of our university, student affairs, and the health center. I feel after working closely with Martie; I can accurately evaluate her interpersonal and professional skills and her suitability as a recipient of this award. She has also deliberately carved out time to enhance her professional development by attending meetings related to her position and serving on various committees throughout the health center. She was voted on by her peers to be on the Nurse advisory board. It is because of her impressive achievements as a support staff member and her active involvement at UHC that I am nominating her for this year's Outstanding Support Staff Member of the Year Award.
In summary, it is clear that Martie has the initiative and passion that have made her successful in her career at UGA. She interacts extremely well with students and staff alike. As a recipient of this award, she will likewise represent the University of Georgia Division of Student Affairs in the highest regard. I am therefore pleased to offer Martie Hedrick my highest recommendation for this year's Outstanding Support Staff Member of the Year Award."
"I would like to nominate Martie Hedrick, Admin Assistant in Green Clinic, for Support Staff Member of the year. When UHC had a flu surge last semester, the demand for appointments greatly exceeded our ability to see patients on the same day they wanted to be seen. Often sick patients had to be scheduled a couple days out with instructions to go to Urgent Care if they worsened. Martie took it upon herself to keep waiting lists of students whose appointments would not be for a few days and would call them if there were any cancellations so that they could be seen sooner. This was labor-intensive and not part of our Admin Assistant's typical workflow, but Martie thought on her feet and worked tirelessly to get students in to UHC as sooner as possible. She is absolutely committed to taking great care of our students and appropriately problem-solves beyond her job description to make that happen. Please see below for further testimonials from Martie's teammates.
***
Martie makes people smile everyday with her bubbly positive sense of humor and makes it a point to speak to every student in a way that makes them feel special. She is quick to notice scheduling issues and tackles challenges that present with appointments. While we were experiencing extraordinarily busy times last fall, Martie went above her expected job in advocating for students and securing timely appointments by making "wait lists" and using the lists to get them in, at times in the same day. I watched in awe as she seemed to be pulling appointments out of nowhere and was amazed at her dedication and enthusiasm in the process. She is a joy to work beside every day.
***
I believe Martie is passionate about the students she cares for. At the beginning of the school year and we were short of appointments, she'd work tirelessly to find those sick students appointments. She always greets them and ends their appointments with a smile."
Award Criteria
Recipient: Individual
Do you know someone who works behind the scenes to ensure their department is successful? Do you want to help them get the recognition they deserve?
This award recognizes a UGA Student Affairs staff member serving in a support role (administrative support, building/facility services, security, etc.) who positively contributes to their department's success and enhances the work environment.
Nominations will be evaluated according to one or more of the following criteria:
Performing job responsibilities in an exemplary manner

Promoting a positive environment in their office/department

Providing outstanding customer service

Striving for efficiency without compromising quality of work

Demonstrating attention to detail in all facets of performance

Actively supporting endeavors of the division or campus community

Nominee serves in a support staff role in UGA Student Affairs at time of nomination



Nominate Someone for a Staff Award!
Staff Awards
The Student Affairs Staff Awards, given to deserving staff across the division and the University, recognize outstanding accomplishments and leadership in student affairs at the University of Georgia.
Contact Us
408 Memorial Hall
University of Georgia
Athens, GA 30602
Ellie Hansen
Assistant Director for Talent Management
lnhansen@uga.edu