STUDENT AFFAIRS GRADUATE ASSISTANTSHIPS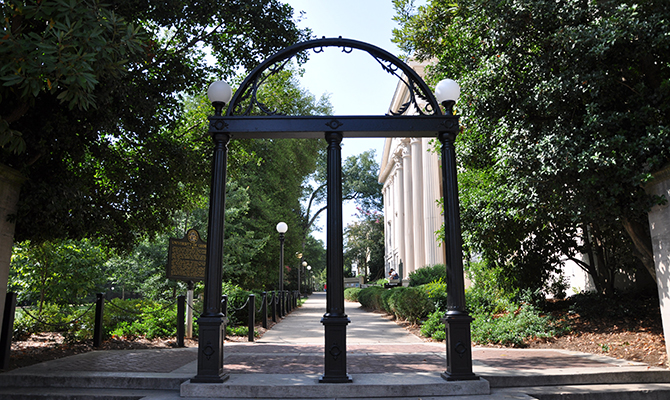 UGA Student Affairs is committed to serving as an educational laboratory for graduate students pursuing careers in Student Affairs, however, all students enrolled in or applying to a master's-level graduate degree program offered at the University of Georgia are eligible to apply for graduate assistantships through this process.
The Office of Vice President for Student Affairs (OVPSA) coordinates the selection process for graduate assistantships in Student Affairs and in offices of our campus partners (Career Center, New Student Orientation, Office of Service Learning). Applicants should address questions regarding all other aspects of employment, including but not limited to tuition remission and payroll, to the specific assistantship provider. Please note that while we fill positions for many Student Affairs departments through this process, some departments have their own internal process for filling graduate assistantship positions. Additionally, this process is not inclusive of all positions available across the university. We encourage you to reach out to departments you are interested in working with to determine if they may have positions available for the upcoming year.
All 2022 – 2023 Student Affairs and campus partner assistantships have been filled.

The deadline to apply for assistantships was January 10, 2022. We will continue posting assistantships available in the "Positions Added After the Deadline" tab below.
The following positions will be added on a rolling basis as they come in to our office. It is recommended you contact the department listed in the position description for more questions related to scheduling an interview, submission of an application, etc.
Have you submitted your application to assistantships above and received confirmation of admission to your graduate program? Then click here to register for the 2021 Graduate Assistantship Campus Day on Monday, February 7, 2022 from 8:30 a.m. to 4:30 p.m. (EST).
Details:
We ask that you hold the day to accommodate scheduling interviews and general programming.

The morning programming is for all admitted assistantship applicants. The remaining portion of the day depends on the number of interviews you have scheduled with individual providers.

Providers have been asked to try to complete all of their interviews during that time frame but may be able to accommodate scheduling needs for during the week. All interviews are to be completed the week of February 7, 2022.
Individual departments will coordinate interview scheduling with you.
This year's program will be digital via Zoom. Zoom information located in the registration page.
December 5, 2021:

Applications Open

The application will ask you to select which assistantships you would like to be considered for, to upload a PDF of your resume (non-PDF documents will not be accepted), and to list three (3) references. 

December 17, 2021

: Download of the Day: Graduate Assistants Session

A digital Zoom meeting for those interested in the graduate assistantship process in UGA Student Affairs. A chance to ask about the application, what it is like to live in Athens, and get questions answered prior to or after applying.

January 10, 2022:

Applications deadline. Must submit your application by this date.

January 5, 2021 to January 21, 2021:

Time frame in which departments will contact prospective candidates to schedule an interview for February 8, 2021.

January 25, 2021:

Deadline to register for Graduate Assistant Campus Day and notify the Office of the Vice President for Student Affairs intent to participate in Graduate Assistant Campus Day. Link to register located here.

February 7, 2022:

Graduate Assistant Campus Day

For 2022, a remote, digital program to highlight aspects of UGA, UGA Student Affairs, and welcome candidates.
Unless there are extenuating circumstances, interviews are to be scheduled to occur this day.

February 8, 2022:

Deadline to register for the Graduate Assistant Reception

February 11, 2022:

UGA Student Affairs Graduate Assistant Reception OPTIONAL

An optional reception and gathering for candidates that wish to see campus and meet staff they might be working with prior to making a decision to attend and work at UGA. 
This will include a campus tour and programming designed for potential graduate assistants to network with one another and potential future employers.

February 25, 2022:

Assistantship offers begin and candidates may begin accepting assistantships on this day

*We do ask that if you accept an assistantship at another institution, to let gradapps@uga.edu and the department's point of contact that scheduled your interview know as soon as possible.*

April 15, 2022:

National deadline for candidates to notify of decline or acceptance.