GRADUATE ASSISTANT OF THE YEAR AWARD
Graduate Assistant of the Year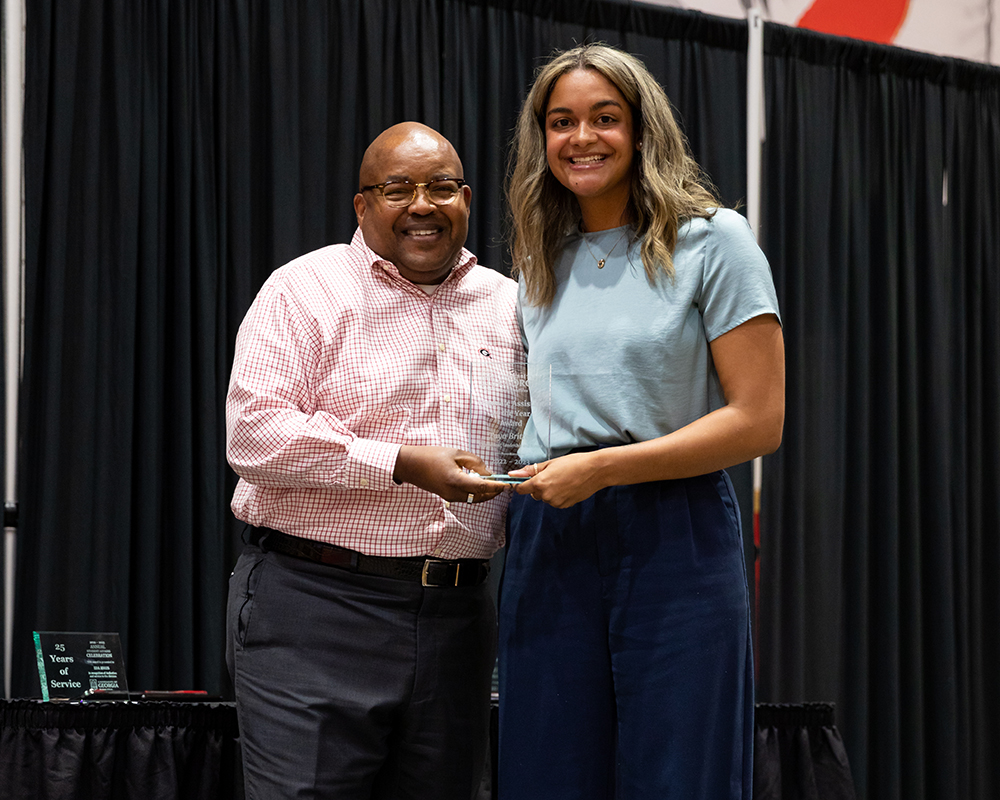 Taya Britten, Engagement, Leadership & Service
2022-2023 Graduate Assistant of the Year Award Winner
Here is what Taya's nominator said about her:
"I am honored to nominate Taya Britten for the Graduate Assistant of the Year Award. Taya is the Graduate Assistant for Leadership has made a profound impact on the lives and experiences of students at the University of Georgia in two short years.
Taya took on additional responsibilities after the departure of her direct supervisor, advising the entire executive board of the Pandora Yearbook, independently directing the Leadership UGA Emerging Leaders program, and supporting various leadership development experiences. She takes her responsibilities seriously, dedicating time to establish strong relationships with students, providing a platform for their ideas to be heard, and co-constructing developmental opportunities for growth. Taya's impact an also be reflected in the following testimonials from students who consistently speak highly of her kindness, leadership, and willingness to help in any way that she can.
Heaven Robinson, Design Editor for Pandora Yearbook, described how Taya supports her through leadership challenges and technical aspects in sharing, "She has always empowered me to speak up and be heard: from developing design exercises to do with the staff to giving me resume advice, Taya has been a bright light in my experience in Pandora and at UGA". Eli Searcy, the Pandora Yearbook Editor-in-Chief described Taya's holistic advising style when he shared, "She always starts our meetings asking me how I am doing in my personal life, which is something she absolutely does not have to do and it's always meant so much to me to know she cares about me outside of the work we do together.
Taya's impact is not limited to the Pandora Yearbook. Through the Leadership UGA program, she has helped numerous students develop their leadership skills and grow as individuals. Her positive energy and genuine care for the students have left a lasting impression. Elias Lind, a peer facilitator for the program said "Taya is a resoundingly powerful individual; she has an immense reserve for kindness, leadership, and humility that floats around her effortlessly. Because of the palpable energy that she radiates, I have seen myself stumble into joy at UGA. She helped a university transition to a campus, a campus to a community, and a community to an array of intimate relationships. She did so by providing me with new perspectives on numerous situations, whether it be social, academic, or professional situations."
Leadership UGA peer facilitators often praise her for her exemplary work and commitment to ensuring the success of the program. She works hard to organize inclusive and engaging plans, always ensuring that the facilitators' input is included. Her support goes beyond their leadership roles and extends to their personal well-being. As peer facilitator, Jenna Dekich shared, "Taya has helped me so much not only in, but outside of Leadership UGA, by always being there for advice when needed, interview prep, or encouragement." Mason Brock, another peer facilitator, credited Taya for the most impactful experience he has ever had at UGA. He said that "her positive energy and genuine care for Leadership UGA members (and all people!) have influenced me in a way that I will never forget. She showed me what I was capable of as a leader and influenced me to both better myself and broaden my horizons, and for that, I will forever be thankful to her."
Outside of her role in UGA Student Affairs, Taya continues to make significant contributions to the field of student affairs. As a volunteer advisor to Gamma Phi Beta Sorority, she works towards creating a more equitable, diverse, and inclusive community. Her presentations at the 2021 NASPA Georgia Drive-In conference at Kennesaw State University demonstrate her dedication to marginalized and underrepresented students. Her presentations on "Why Aren't They Initiated? Conversations on Exclusionary Practices within Greek Life" and "Racial Disparity in Higher Education" were informative and engaging, providing valuable insight into crucial issues facing the field.
In summary, Taya Britten is an exceptional professional who has made a significant impact on the UGA community through her leadership, mentorship, and care. She has helped her colleagues and students grow both professionally and personally, and her positive energy has left a long-lasting impression. I highly recommend her for Graduate Assistant of the Year, as she is truly deserving of this recognition."
Award Criteria
Recipient: Individual
Is there a graduate assistant in your department that was crucial to achieving your goals this year? Have a classmate that you feel should be recognized for their work in their assistantship?
This award recognizes a UGA Student Affairs graduate assistant who has consistently exceeded the responsibilities of their position in a manner that promotes the success, mission, and goals of the Division.
Nominations will be evaluated according to one or more of the following criteria:
Performing job responsibilities in an exemplary manner
Seeking additional opportunities to engage within the Division outside of regular position responsibilities through volunteering for and/or participating in initiatives hosted by various departments or the Division
Positively impacting, engaging, and/or supporting the Division and UGA community
Contributing to their field through conference presentations, digital/print publications, or a volunteer role
Nominee serves as a graduate assistant in UGA Student Affairs at time of nomination
Nominate Someone for a Staff Award!
Staff Awards
The Student Affairs Staff Awards, given to deserving staff across the division and the University, recognize outstanding accomplishments and leadership in student affairs at the University of Georgia.
Contact Us
408 Memorial Hall
University of Georgia
Athens, GA 30602
Ellie Hansen
Assistant Director for Talent Management
lnhansen@uga.edu