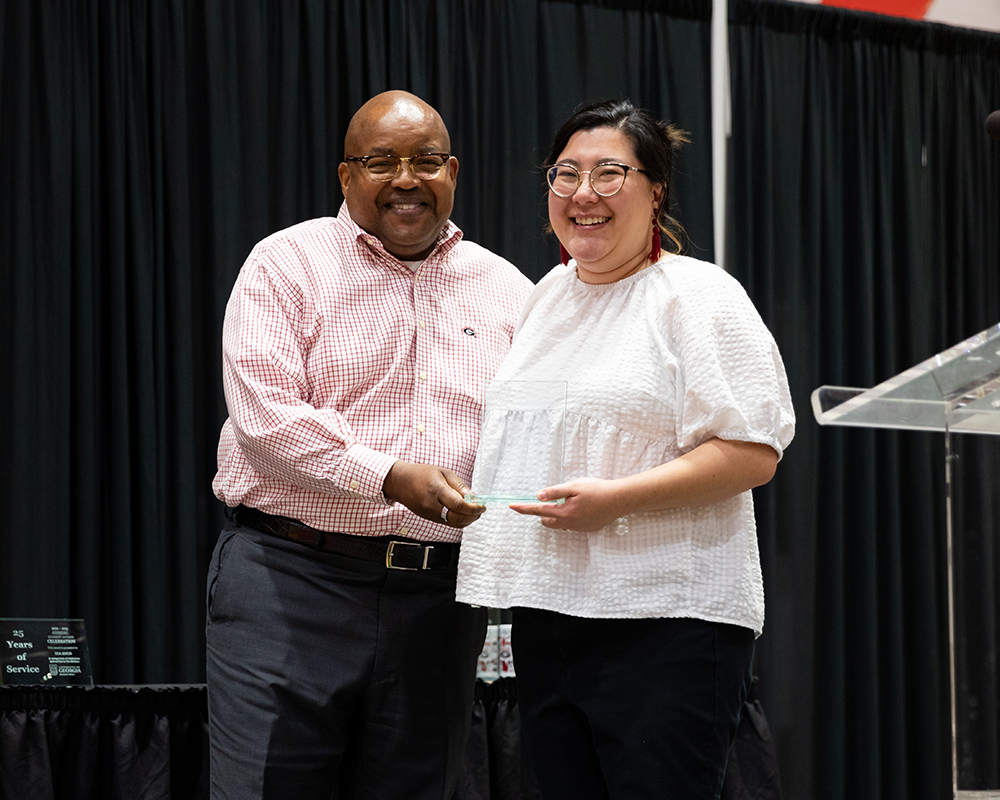 Erica Lee, Engagement, Leadership & Service
2022-2023 Emerging Leader Award Winner
Here is what Erica's nominator said about her:
"Erica Lee, Assistant Director for Community Engagement in the Engagement, Leadership, and Service department, is an incredible candidate for the 2022-2023 Emerging Leaders Award through the Division of Student Affairs. Erica started in her current role in June 2022, and prior, she worked as the Assistant Director for Student Organizations at Clemson University starting in May 2019.
Erica advises Serve UGA, the student organization that hosts the largest on-campus day of service each semester. She has worked tirelessly to improve all aspects of event logistics, from clarifying student responsibilities in a centralized & organized dashboard to maintaining open communication with local sites to assess current volunteer needs. Marketing efforts campus-wide have been significantly enhanced because of her exploration of available options, and she has even developed a template for fellow colleagues to utilize for their own programs. This event is a day that many students look forward to, where direct service, reflection, and team-building skills coincide. Dawg Day of Service is a labor of love to execute successfully, and Erica has already proven to be thorough in addressing all necessary components that allow for a seamless experience for all involved.
Additionally, Serve UGA is structured as a tiered student engagement model with a six-person Executive Board and twenty-five Service Ambassadors. As a whole, Erica has effectively redesigned the student leadership experience & developed student buy-in through intentional retreats, regularly-scheduled weekly experiences, and General Body Meetings. Serve Athens trips throughout the semester aim to standardize opportunities for students to serve local partners on a regular basis, and Erica has done an exemplary job of holding Service Ambassadors accountable to hosting events in both East & West Athens divisions. Erica has worked directly with students in prototyping outreach opportunities, accountability-based points system, regulated timeline for Dawg Day of Service preparation, step-by-step guides, reflection prompts, and so much more that is interwoven in all aspects of the organization. Since the start of the 2022 academic year, Serve UGA has accomplished a total of 2,260 hours of community service – this is an amazing metric to be proud of, and she will continue the momentum of exponential growth for the organization to reach even more UGA students & community partners.
Finally, Erica renders significant contributions to the field throughout the year. She is an active member in the Southern Association of College Student Affairs (SACSA) via annual attendance to the conference as well as continual engagement in her leadership role as Webmaster of the organization. Regarding community engagement, Erica prioritizes lifelong learning by researching relevant articles & models that can be incorporated into existing initiatives. She readily shares new concepts with colleagues that can encourage improvement and/or fresh partnerships.
I am continuously inspired by Erica's creative approach to problem-solving, as well as distinct dedication to student success. Her kindness and support to her fellow colleagues is commendable, as she naturally connects with others both personally and professionally. Erica is a superb example of commitment to both divisional & departmental values through her development of a dynamic organization that benefits a wide variety of stakeholders. She is a central voice in expanding community engagement initiatives for the ELS department, and she is facilitating incredible growth for her students. I am thankful for her and look forward to witnessing her future successes!"
Award Criteria
Recipient: Individual
Do you have a staff member with enormous potential? Know someone that isn't "new" but feel that they continually exceed expectations?
This award recognizes a UGA Student Affairs staff member who has at least 3 years of professional experience, not all of which have to be in UGA Student Affairs. This staff member, regardless of position or title, exceeds the responsibilities of their position in a manner that demonstrates a commitment to student success.
Nominations will be evaluated according to one or more of the following criteria:
Performing job responsibilities in an exemplary manner
Inspiring others by demonstrating a commitment to the values, mission, and vision of UGA Student Affairs
Prioritizing a steadfast commitment to student success through their work
Positively impacting, engaging, and/or supporting the Division and UGA community
Contributing to their field through conference presentations, digital/print publications, or a volunteer role(s)
Nominee serves as a staff member in UGA Student Affairs with a minimum of 3 years of total professional experience (not only at UGA) at time of nomination
Nominate Someone for a Staff Award!
Staff Awards
The Student Affairs Staff Awards, given to deserving staff across the division and the University, recognize outstanding accomplishments and leadership in student affairs at the University of Georgia.
Contact Us
408 Memorial Hall
University of Georgia
Athens, GA 30602
Ellie Hansen
Assistant Director for Talent Management
lnhansen@uga.edu