Victor k. wilson
COMMITMENT TO EXCELLENCE AWARD
Victor K. Wilson Commitment to Excellence Award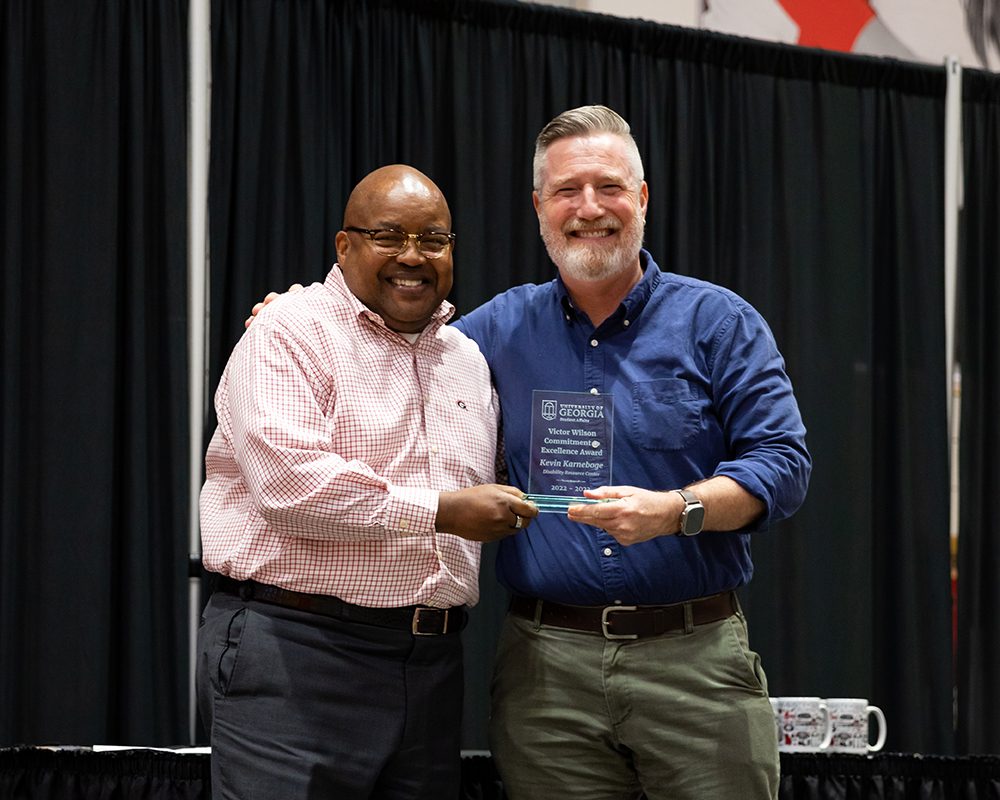 Kevin Karneboge, Disability Resource Center
2022-2023 Victor K. Wilson Commitment to Excellence Award Winner
Here is what Kevin's nominator had to say about him:
"Kevin's tenure at UGA is long (I remember when he was an ASL interpreter in my Marine Biology course when I was a freshman twenty plus years ago). Kevin is also everywhere. He's kind of famous. If you've ever seen commencement, then you've seen Kevin in his black suit providing ASL interpreting services. It's especially fun to watch him sign the Alma Mater. As the Assistant Director of Deaf and Hard of Hearing Services at the Disability Resource Center, Kevin provides leadership to the department and in the campus community. He loves to problem solve and is willing to jump into any situation that arises.
For example, the Dean of Engineering shared the following:  "On quite short notice we had a family visit whose son suffered from profound hearing loss.  I emailed Kevin only yesterday to schedule an interpreter for Friday (tomorrow) and, as it turned out, the family planned to visit today (Thursday) at noon.  I emailed Kevin mid-morning and he said it would not be problem to accommodate the visit.  He joined us for the visit and it was great to have him there.  It made the experience for the prospective student so much better and it sent a very positive message to his father about the support that UGA provides for students with needs."
Kevin will drive across campus in his truck to help move a colleague's chair. He will jump in at the beginning of an incredibly hectic semester and meet with students with learning disabilities to get them set up with accommodations. He will coordinate complex captioning in real-time services with limited information from his supervisor and make magic happen. He will get on the phone with a frantic professor who is nervous about captioning their materials and enlighten them about accessibility to the point that they can't wait to have the student in their class. He will give the new employee a pep talk. He will engage in riveting debate to get the most appropriate accommodations for a student. His wealth of knowledge and support for deaf and hard of hearing students is ever growing and adapting. His can-do attitude is contagious and appreciated. He would be a worthy recipient of the Commitment to Excellence Award. "
Award Criteria:
Recipient: Individual
Do you know someone that has been here for 10 or more years and want to recognize that person for their hard work and commitment? Does a name come immediately to mind when you think of someone who is dedicated to the success of UGA Student Affairs? 
This award recognizes a UGA Student Affairs staff member who has contributed at least 10 years of service to UGA Student Affairs. This staff member, regardless of position or title, has demonstrated exceptional leadership and exemplary service to UGA students, staff, and the community.
Nominations will be evaluated according to one or more of the following criteria:
Displaying a steadfast commitment to performance beyond regular position responsibilities
Modeling an example of excellence for students and staff
Providing a level of service that exceeds their position responsibilities and expectations to prioritize the student experience
Positively impacting, engaging, and/or supporting the Division and UGA community
Nominee serves as a staff member in UGA Student Affairs with a minimum of 10 years of service to the Division at time of nomination
Nominate someone for a Staff Award!
Staff Awards
The Student Affairs Staff Awards, given to deserving staff across the division and the University, recognize outstanding accomplishments and leadership in student affairs at the University of Georgia.
Contact Us
408 Memorial Hall
University of Georgia
Athens, GA 30602
Ellie Hansen
Assistant Director for Talent Management
lnhansen@uga.edu