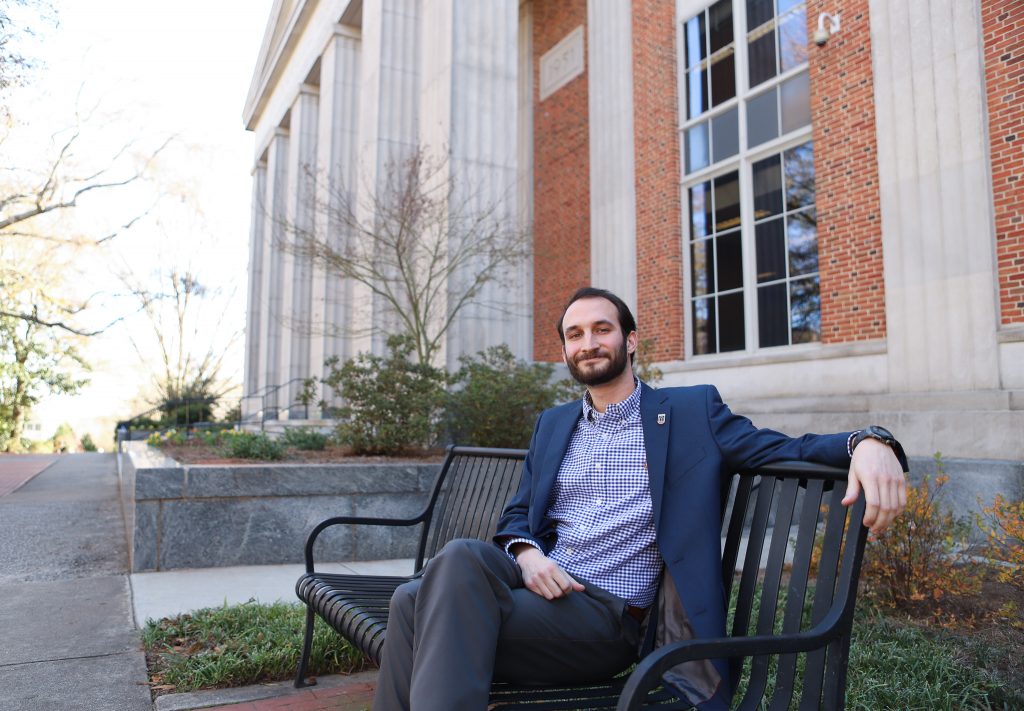 Coordinator for Greek Housing Management – University Housing/Greek Life
Achiever – Discipline – Consistency – Futuristic – Context
Worth was nominated for a Staff Spotlight by a colleague through the Staff Spotlight Nomination Form. To nominate a colleague for a future Staff Spotlight, click here. Worth's nominator wrote:
Here are a few reasons the Greek Life staff would like to recognize Worth and why we'd like more colleagues in the Division of Student Affairs to get to know him:
Hi, Worth! Where do you call home?
I grew up in Jasper, a town located in Pickens County. It's a wonderful, small town in the Blue Ridge Mountains.
If you went to college, where did you go?
I am a graduate of UGA with a degree in Consumer Economics from the College of Family and Consumer Sciences. As a kid, I grew up thinking that I would end up going to Georgia Tech or Georgia. Both institutions have a long history with my family. My grandfather used to live in a house very close to Georgia Tech's campus, and grew up attending football and basketball games with my Grandma when they were first dating. Spending that much time with them in Georgia Tech's backyard kind of made it a natural occurrence to lean towards going to school there one day.
Sounds like you might have switched allegiances over time. What's the story behind that?
You could say that. In about 2002, I was really sick during Thanksgiving Break and was watching the Georgia vs. Georgia Tech game as I was trying to recover from the flu. Georgia was having a historic season and I still can remember watching a play where JT Wall, a transfer running back, was practically dragging Georgia Tech players. I still get chills thinking about it. I still remember downloading the UGA fight song on my phone and having the volume set on loud when nobody was around and would just let it ring over and over again (laughs). I was hooked. I couldn't help but think, "Wouldn't it be cool to go to school there and hear that song as you are walking to class or in the stadium?
How did the family react to your new allegiances?
Most were fine with it and understood. It's just one of those things that elicits some jokes back and forth every now and again. But, I will say, you can bet that I had my phone on silent during family holidays for a little while [laughs].
What is it like working at the school that you went to for your undergraduate degree? Did you work on campus at all during your time here?
At one point in undergrad, I used to work at a Sunglass Hut and remember feeling like I was missing out on what all was going on here on campus. As someone that loves history, there is so much to learn about this university and all that has happened in its storied past, so I was committed to finding a job on campus that would allow for me to weave UGA throughout all aspects of my life. I ended up applying to work at Ramsey Student Center and the rest is history. I got a chance to be involved in so much. Academics always came first for me, but if I wasn't studying, I was at Ramsey or trying out different student activities. Whether it was being a part of Spike Squad or helping with UGA Heroes, I feel like I always had a chance to learn more and more about UGA and myself.
What is something that you would like other staff to know about you?
While I love UGA, I know that it always has room to improve. If people know fun facts about the school, I'd love to hear them because, like I said, I love history and hearing about the unique moments that have been a part of this school's past. Generally, I'm a pretty private and quiet guy so that might come across a little standoffish, but I assure you that I love talking to people. I love hearing about what they do, what they want out of life, and what their story is — I feel like I can talk about anything with anyone. I feel like I am a really good listener and enjoy hearing people's thoughts and perspectives on things.
What would be something other staff could partner with you and your department on?
With regards to partnering with me specifically, I am always looking for new ideas and ways to invest in the student leaders that manage the historical spaces they live in as part of Greek Park. I like to connect with the students to get an idea about what their plan is for maintaining and organizing their physical spaces, but also for ways to help them grow by getting an idea for what they are hoping to invoke. If there are resources that people would like me to connect with the house managers, I would love to connect with staff about it. As for our office, I think there are plenty of ways, but think that our incoming Director has a lot of ideas already for opportunities to connect and partner with other departments.
Do you have any advice for new or current staff?
Don't stop being curious and showing the initiative to ask questions. I think I have seen a lot of growth, personally, by putting myself out there to connect with people when I could just focus on my to-do list.  When I was in school, I was playing basketball and saw a staff member's door was open and I walked over to tell him how much I loved spending time at Ramsey and asked if there were any jobs available. One and a half years later, I was helping set up things at the Intramural Fields and was also working with Athletics because of various ideas that I had.
That's another piece of advice. If you have an idea, share it. You never know if that idea is the missing piece to a puzzle. There's something incredible about "let's see what happens" when it works out. It also helps people see that to you, you value your work more than "just" a program or an event or a service you are providing. There's a level of investment there that you are always thinking [about].
What's the coolest thing you have ever done and why?
I would say getting to be a December graduate at UGA and to be a First Honor Graduate. It was a great feeling to be able to walk in with Administration and take our seats. They sit the parents in a particular section and when the student's name is called the parents will stand up. I am lucky to where I have two groups of family, sitting in the same section near one another. When my name was called as a recipient for the Bill and June Flatt Award in Family and Consumer Sciences, it was incredible to look back at both sets of parents and see them beaming with pride. In that moment I feel how important all of my time as an undergraduate was to them. My hard work meant a lot to them and it was a really cool moment.
Nominate someone to be recognized for their hard work!
Staff Spotlights: Sharing the stories of staff in UGA Student Affairs
Contact Us
408 Memorial Hall
University of Georgia
Athens, GA 30602
James Crawford
Student Affairs Staff Development Lead
jcrawford@uga.edu 
Matthew Waller
Chief of Staff
mewaller@uga.edu