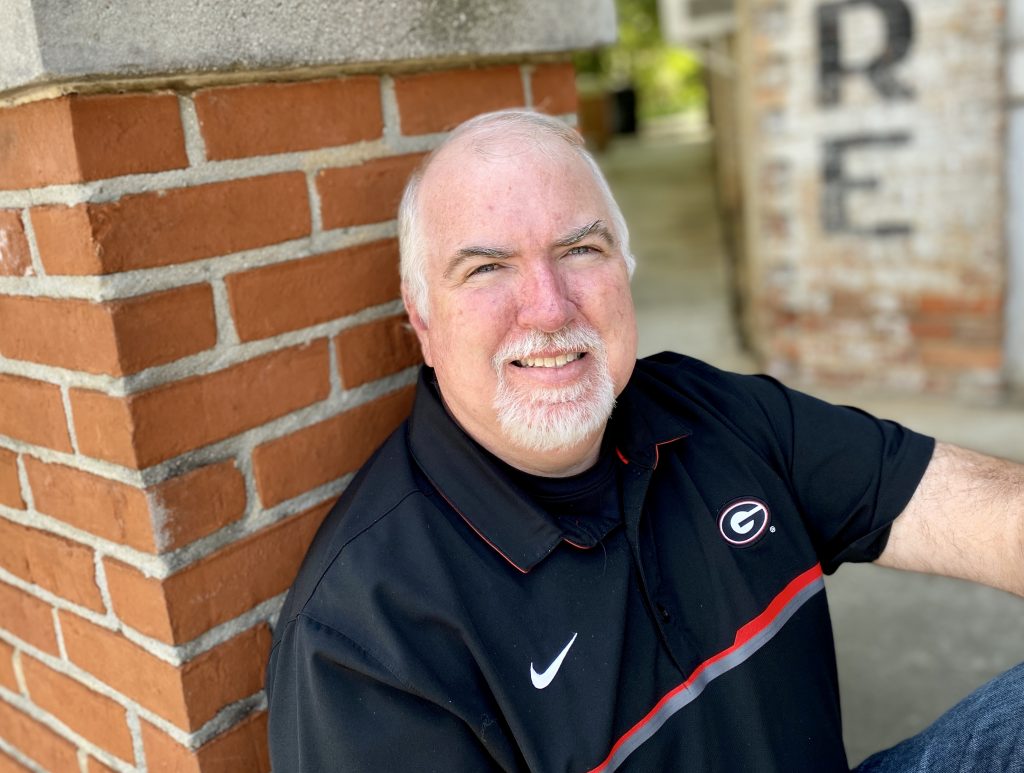 Student Affairs Information Technology Lead – Office of the Vice President for Student Affairs
Restorative – Harmony – Responsibility – Adaptability – Includer
Tim was nominated by a colleague, who wrote:
Are you from Georgia? If not, where are you from? (i.e., where do you call "home"?)
Yes, I grew up North of Athens in Danielsville. I graduated from Madison County High School. I have lived there my entire life.
How long have you worked at UGA?
I have worked a total of 16 years at USG institutions. I have worked two different stints at UGA and also worked at Augusta University in between those two.
What does a "day in the life" look like for you at work?
My days consist of working alongside our OVPSA IT Team to ensure our Staff and students get the best support for any IT needs. I am also involved in assisting VPSA departments in IT planning for their technology needs.
What are three things you love most about your job?
I love the comradery and friendship we have amongst our OVPSA IT group. They make every day fun and exciting regardless of what we face.
I love getting to collaborate with our other VPSA departments to impact students with their technology needs even though we don't work directly with students.
I love working in the Tate Student Center which is the hub of the campus. It is a very busy place but it is exciting watching the students engage there daily.
Who do you look up to or admire?
Probably the person I admire and strive to be like most is my dad. Although he had very little education (2nd Grade), he was a very wise man and taught me more than anyone on how to live life and treat people. I have been accused of being too quiet in meetings before, but my dad always made the statement that you should listen twice as much as you should talk. That was the reason God gave you two ears and only one mouth.
What are things that you do for fun/hobbies?
I love to cook and BBQ. I have about three different types of smokers and there is nothing I enjoy more than cooking BBQ and watching people enjoy it. A good many of my weekends consists of smoking meat and sharing it with family and friends.
Anything you would like to share that you would like other staff to know about you?
I love volunteering at our church and I love college sports. I enjoy volunteering in my church with sound and video production. I also work part time with SEC officiating with Instant Replay for football and basketball. Although doing both can be challenging at times, I enjoy it immensely.
What advice would you have for new staff joining UGA Student Affairs?
You will love Student Affairs. Enjoy working with all the various departments and build as many relationships as you can. It is so rewarding being a part of this division and watching the impact it has on the UGA students.
What is one question you wished we asked and what is the answer?
What is your least favorite color? Orange! I hate orange! Any shade of it. Go Dawgs!
What is the coolest thing you have ever done and why?
I hit a hole in one on the 12th hole of golf I ever played. Some work friends talked me into playing in a work tournament with them. I bought some clubs and showed up at the UGA Golf course that Saturday. On the Par 3 12th hole, I hit the perfect shot (and the luckiest). I was so new to golf; I really didn't realize how big of a deal it was. My thought was, isn't that what you are supposed to do? [Laughs.]
Nominate someone to be recognized for their hard work!
Staff Spotlights: Sharing the stories of staff in UGA Student Affairs
Contact Us
408 Memorial Hall
University of Georgia
Athens, GA 30602
James Crawford
Student Affairs Staff Development Lead
jcrawford@uga.edu 
Matthew Waller
Chief of Staff
mewaller@uga.edu