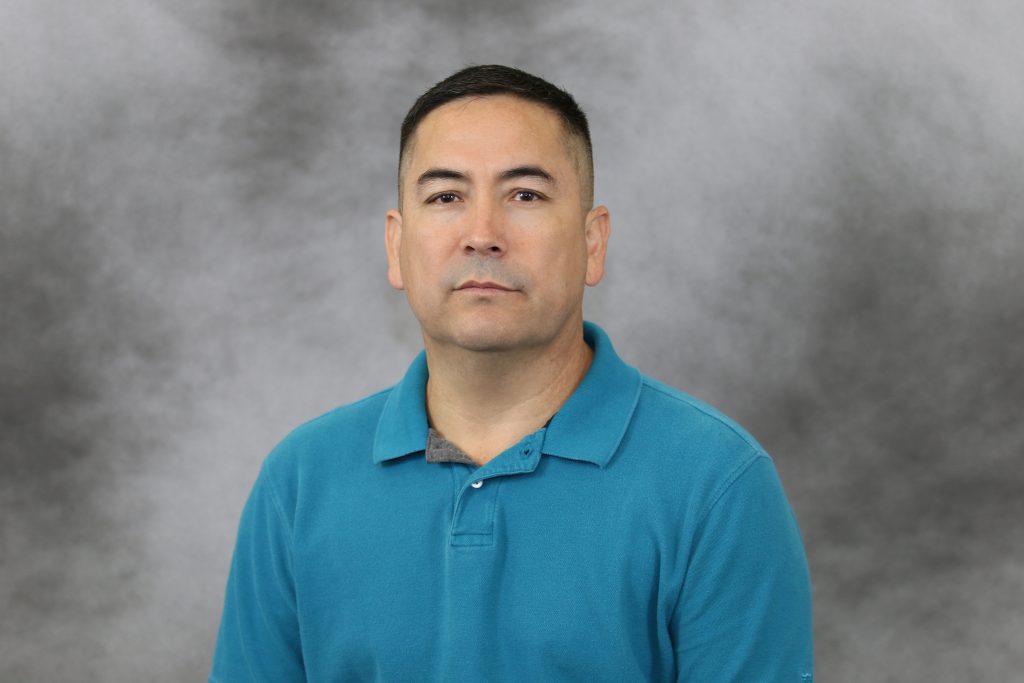 University Housing – IT Senior Manager
Context – Responsibility – Learner – Arranger – Belief
Alvie was nominated by a colleague, who said the following:
Are you from Georgia? If not, where are you from? (i.e., where do you call "home"?)
I was born in Los Mochis, in northwestern Mexico and lived there most of the time until the age of 14. I then migrated to Tucson Arizona, where I attended High School and now call home. I have plans to someday, in a not so distant future to retire in Mexico where the cost of living and weather is good.
How long have you worked at UGA?
I started my employment at UGA on April 2011, tax day to be precise.
What does a "day in the life" look like for you at work?
My day starts in a very similar way most days. Typically, I start by checking my email for various process status notifications, review Trello boards, process status, backup status, and other daily tasks for which either the staff I supervise are responsible, or I'm directly responsible for. After checking these items, I document their status on the monthly spreadsheet and Trello board. After that, I work on items on Trello board to accomplish the high priority tasks. The day changes as tasks need to be accomplished, sometimes it takes me out of the office which I enjoy very much.
What are three things you love most about your job?
Working with professionals that care so much for others and going beyond expectations to help each other meet their respective goals. The climate is ideal for doing your best every day. I love and enjoy what I do; I come to the office with a positive attitude and belief that everything is possible.
Who do you look up to/ admire?
I have two persons I admire most, one for my professional life and another for my personal life. In my professional life, I admire Carla Dennis. She has been like my true north, providing professional guidance and being an excellent listener when needed. In my personal life, I have always admired my grandfather since I can remember. He is no longer with us today to continue to provide me that light we all need to guide us, but I believe he gave me a foundation to continue my journey on my own. Although he did not have a formal education or a prominent position in the community, he gained respect for his convictions. That is what I admire most [about] him.
What are things that you do for fun/hobbies?
I cannot think of any specific hobby, but I do several short-term hobbies. Things that enjoy now, but know very well that I will not do for a long time. When the weather is good, I enjoy playing board or card games with my spouse, which she wins most of the time. I also enjoy mowing the grass, it gives me time to think clearly and uninterrupted when I need to. Lately, I am enjoying painting a room in the house or fixing something in the house that may not necessarily need fixing. I enjoy the fixing or the improvements made.
What might be something that you would like other staff to know about your job?
Remember that I am here and the IT team is here to provide assistance with Information Technology needs. The IT team is strong in anticipating end user needs, but still need to hear from end users. We much rather work from a proactive stance than a reactive one. Give us the opportunity to assist you.
What might be some ways that staff could collaborate or partner with you?
Contact me or any member of the IT team, we want to collaborate with others in implementing solutions that will help us all improve every day. Just make sure you have an idea of what the goal is. Together we can fill in the blanks.
Anything you would like to share that you would like other staff to know about you?
Ask me and I will tell you, I am not complicated.
What advice would you have for new staff joining UGA Student Affairs?
Some of us may join the team for a different reason, do not lose sight of that reason. Do not be complacent, be happy, love what you do, provide value to the organization, and accomplish your personal and professional goals. It is an excellent place to work and grow, you are on the driver's seat as to what you want to accomplish with the opportunity.
What is the coolest thing you have ever done and why?
Some years ago, I enjoyed running much more than I do now. I participated, four times, on a relay run around the island of Oahu, Hawaii. The team [was] comprised of seven runners and two drivers. Each runner would take their turn running and the rest of the team would ride the two vehicles until their turn came up. On average, each runner ran between 19-20 miles by running five relays throughout the event. The relays for each runner were not consecutive and there was plenty of rest waiting for the next turn. The lack of sleep and the frequent start and stop takes a toll on your body that becomes evident towards the end of the event. The last relay for each runner was the shortest and the most challenging to complete. Running the Oahu Perimeter run was a cool experience for me. It was cool because of the experience you shared with your teammates.
Nominate someone to be recognized for their hard work!
Staff Spotlights: Sharing the stories of staff in UGA Student Affairs
Contact Us
408 Memorial Hall
University of Georgia
Athens, GA 30602
James Crawford
Student Affairs Staff Development Lead
jcrawford@uga.edu 
Matthew Waller
Chief of Staff
mewaller@uga.edu