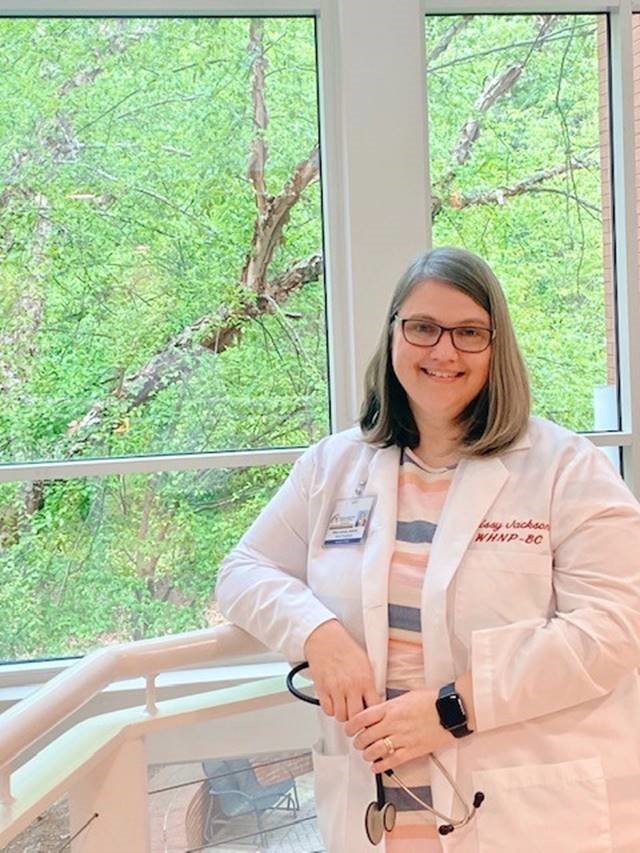 Director of Nursing Services, WHNP-BC – University Health Center
Empathy – Developer – Consistency – Positivity – Belief
Missy was nominated for a Staff Spotlight by a colleague. To nominate a colleague for a future Staff Spotlight, click here. Missy's nominator wrote:
Are you from Georgia? If not, where are you from? (i.e., where do you call "home"?)
I'm actually a 5th generation Athenian on my father's side. My mother was also born and raised in Athens. My parents both graduated from Athens High School (now Clarke Central High School). I graduated from Cedar Shoals in 1992, where I met my husband, Travis. We love Athens and are so grateful that we have had the opportunity to raise our children in this community and both work on campus (Travis is the Senior Director of Total Rewards in Human Resources).
How long have you worked at UGA?
I've worked at UGA for almost 4 years.
What does a "day in the life" look like for you at work?
I am a nurse practitioner in the Women's Clinic at the Health Center. The majority of my day is spent providing care to patients. As a nurse practitioner in the Women's Clinic, I provide routine gynecological care including contraception, STI screening and treatment, pap smears and wellness exams, [as well as] caring for people experiencing gynecological problems. I also have the opportunity to serve on committees that further the mission of the Health Center, including the Sexual Assault Response Committee and Quality Council. During the COVID-19 crisis, I've been involved in the process of adding telemedicine to our services. 
What are three things you love most about your job?
First and foremost, I love the students. Providing health care to students is rewarding because not only am I providing for their health care needs, but I am helping them learn to navigate the health care system. Second, I love my colleagues. The people that work at the Health Center are some of the most caring people I've ever known. I consider it an honor and privilege to go to work every day with this group of people who are committed to providing holistic, patient-centered medical care in a compassionate manner. Finally, I love being a part of the University community. Since becoming a nurse practitioner, I've worked in private practice and rural health care. I loved both of those jobs, but there is something special about working at the University of Georgia.
Who do you look up to or admire?
In my career I have had the opportunity to work with an immeasurable number of amazing people; in my personal life I have many incredible friends and family. I'm thankful for supportive parents and in-laws and an awesome husband and some pretty great kids that I admire greatly. But from a professional standpoint, I would have to say that hands down, my first nursing manager at St. Mary's Hospital Labor and Delivery, Ms. Jane Kimble, will always be the medical professional I admire the most. Ms. K, as we called her, not only taught me how to be a nurse, but she modeled for me an impeccable work ethic. She encouraged me to become a nurse practitioner and helped pave the way for this career path. I am so grateful that she took a chance on me as a new graduate nurse 22 years ago. She passed away several years ago and I miss our late-night chats and [the] ability to call her when I'm facing a professional challenge that I need to talk through. She always had sound advice for me.
What are things that you do for fun/hobbies?
While I'm not very good at it, I love to paint. I also love to read historical fiction, and when I can, I really like to do that at the beach. 
What might be something that you would like other staff to know about your job?
I often say that the Health Center is one of the best kept secrets at the University. We are not "just the infirmary." The University Health Center is one of the top college health centers in the country, providing comprehensive care to students in a state-of-the-art facility with exceptional clinicians.
What might be some ways that staff could collaborate or partner with you?
Any staff who is aware of a female or trans male patient in need of gynecological care should always refer them to our clinic. In addition, I think it is important to know that I, along with my colleagues in the Women's Clinic, are happy to collaborate with anyone on campus who needs to provide education about gynecology topics to their students or student groups.
What is the coolest thing you have ever done and why?
The coolest thing I've ever done is zip line across a river in the rain forest of Costa Rica. I was there serving on a mission trip with my church and we had the opportunity to either go hiking, zip lining, or lay by the pool on our free day. I'm incredibly terrified of heights, but could not pass up the opportunity to see the rainforest from this perspective. While in the canopy I saw sloth and several different species of birds including macaws and a toucan.
Nominate someone to be recognized for their hard work!
Staff Spotlights: Sharing the stories of staff in UGA Student Affairs
Contact Us
408 Memorial Hall
University of Georgia
Athens, GA 30602
James Crawford
Student Affairs Staff Development Lead
jcrawford@uga.edu 
Matthew Waller
Chief of Staff
mewaller@uga.edu