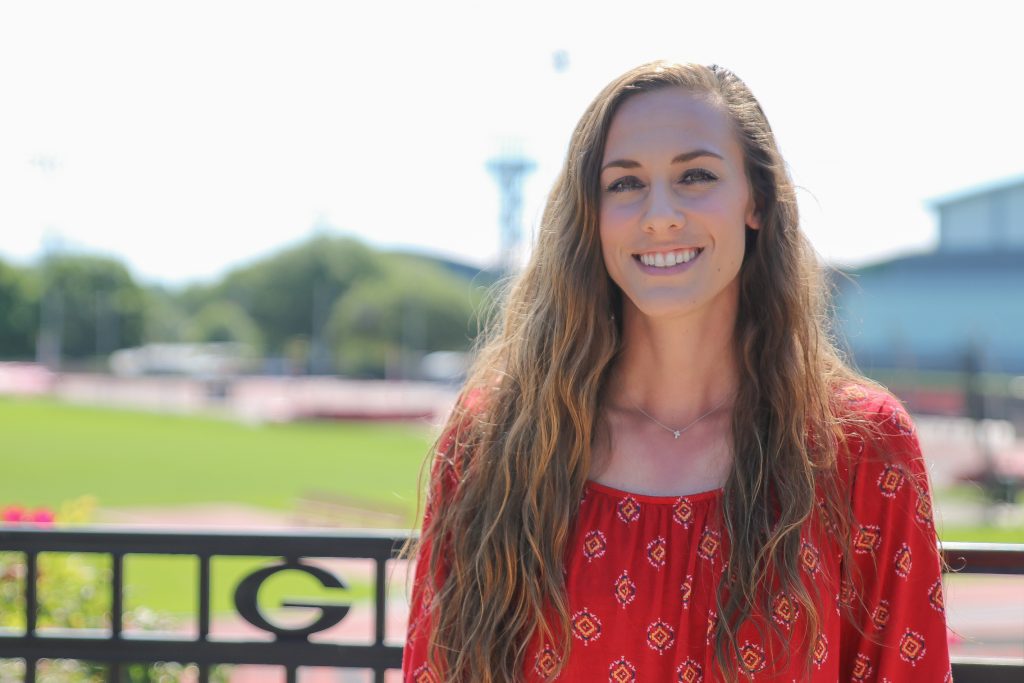 Assistant Director for Fitness and Wellness – Recreational Sports
Relator – Deliberative – Responsibility – Consistency – Significance
Lisa works in Recreational Sports as the Assistant Director for Fitness & Wellness where she leads the group fitness, personal training, small group training, and the Fitness & Wellness Outreach programs. From Sterling, Ohio, Lisa attended Ashland University in Ashland, Ohio for her bachelor's and master's degrees. While at Ashland, she spent her days as a heptathlete and 400-meter hurdler for the Women's Track & Field Team, and worked for Recreational Services as Lead Group Fitness Instructor and Fitness & Wellness Intern. After graduating with her master's, she began her career working in campus recreation as the Assistant Director for Fitness & Wellness at Clayton State University in Morrow, Georgia. These opportunities at Ashland and Clayton State allowed Lisa to promote fitness & wellness on campus while being able to stay active in the track & field community through coaching the collegiate teams at both universities.
Lisa still trains, aspiring to run in USA Track & Field Masters competition one day. "Track & Field has been a part of my life since I can remember. It's a great community to be a part of and I love being able to use the sport to give back to local youth." It must come as no surprise that Lisa picked Spec Towns Track as her favorite spot on campus.
When asked what she loved most about her job in Recreational Sports, she said, "It sounds cliché, but getting to work with students is my favorite. I love mentoring and coaching. Whether it's teaching them how to run a fitness class, discussing how to program for a client, or editing a resume – I enjoy being there for them." She says that being able to be a part of the RAMFAM enables her to give back to the community and her professional associations, allowing her to keep a fresh perspective on her work. "I'm the kind of person that when I am part of something, I can't just sit on the sidelines. I want to play an active role to help make things better and my work supports that."
"Our work in Recreational Sports is so dynamic. We help students prepare themselves professionally while chasing their academic pursuits. For me, coming to the University of Georgia was a chance to start fresh. I got a chance to find ways to get involved in the Athens community. I try to keep in the forefront of my mind, 'what do I want to be known for?' and what immediately comes to mind is someone that is known for helping others. Whether it's supporting students and staff through personal health goals, investing in the community, or participating in programs the University provides– working at the University of Georgia helps me answer that question each day."
Lisa also volunteers within her professional associations, NIRSA: Leaders in Collegiate Recreation and Georgia Recreational Sports Association (GRSA). "The opportunity to help students and staff strive toward their fitness and wellness goals while also making an impact in NIRSA is what I love about my job." She also currently serves as State Director for the GRSA.
What's the coolest thing you've ever done?:
I think the coolest thing I've ever done was winning a state championship in the 300-meter hurdles my senior year of high school, after having only ran the race eight times. The year prior, I ran in the 400-meters, a race that I thought I was best at and didn't qualify for finals. I was defeated. I remember my older brother made me a 'motivational poster' after I lost with a photo from the event and the words 'Remember this picture and how you felt. Build off of it and know this is not how you want to feel next year!'. After that, I spent the off-season training at least three days a week for five hours a day. I worked so hard and spent so much time training that it made winning the State Championship even sweeter.
Nominate someone to be recognized for their hard work!
Staff Spotlights: Sharing the stories of staff in UGA Student Affairs
Contact Us
408 Memorial Hall
University of Georgia
Athens, GA 30602
James Crawford
Student Affairs Staff Development Lead
jcrawford@uga.edu 
Matthew Waller
Chief of Staff
mewaller@uga.edu