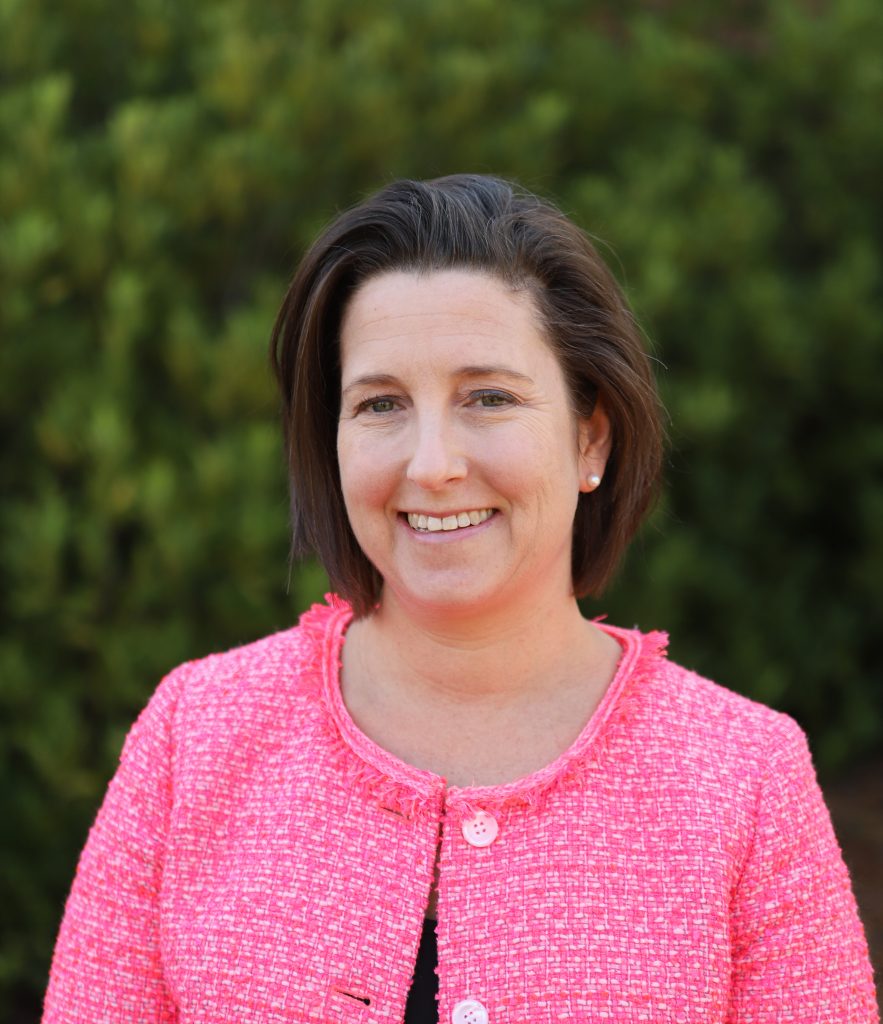 Assistant Director for Disability Services – Disability Resource Center
Empathy – Harmony – Responsibility – Ideation – Learner
As we continue to highlight staff nominated for Student Affairs Awards, we're recognizing Carolyn Arnold, who was nominated for the 2019 Commitment to Excellence Award. Carolyn's nominator wrote the following:
Hi, Carolyn! Are you from Athens or Georgia? What led you UGA?
I grew up around Atlanta, and moved to Athens in 1994 after attending Young Harris College (a two year college at the time) in Young Harris, Georgia. Most people who graduated from Young Harris College transferred to UGA. My mother received her Ed.s from UGA and my brothers graduated from UGA, so it's sort of a family thing. I received my BSW and MSW from UGA, and soon after graduating became a Licensed Master Social Worker (LMSW).
Have you worked at UGA the whole time you've lived here?
No. I received my MSW with a focus on Child Welfare from UGA and worked at the Department of Family and Children Services in the Child Protective Unit for approximately six months after graduating (I did my internship there and was hired after graduating). I learned a lot from the job, and enjoyed certain aspects of [it], but I knew that I did not nor could I do that type of work for much longer. I became aware of the job opening at the DRC and applied because you can say I had a calling to this type of work.
When I was younger, I was diagnosed with Dyslexia and ADHD and was fortunate enough to attend the Schenck School, a school in the Atlanta area for language disabilities. My first grade teacher made such an impact on me I knew then I wanted to work with students with disabilities. She actually hired me to work at Schenck during the summer when I was a freshman and sophomore in college. I love to tell this story…there was a student that I worked with during the summer at Schenck who came to UGA and it turned out that I was her coordinator during her time at UGA.  Anyway, I have been at the DRC since 2000.
Is there anything you'd like to share with staff so they can learn a little bit more about you?
Well, most people know that I love coffee, mainly because I need the caffeine, but also just because I love a good cup of coffee. I also enjoy shopping, reading, cooking, and listening to music. I met my husband at Young Harris College and we have three boys ranging in age from 7-13 (the real reason I love coffee).
What is something about your position or the work done by Disability Resource Center that you would like other staff to know?
There is quite a bit to share about how complex the process of determining and implementing academic accommodations can be. Students might have the same disability, but the disability can impact each student in a different way, so there are not set accommodations based solely on the disability. Our work requires us to not only be well versed in policy and procedure, but we also have to learn how to navigate many moving parts between the student, staff/faculty, and sometimes the student's parents/legal guardian. It is a delicate balance.
It feels like your work is incredibly rewarding and could be quite challenging all at once. What would be a challenge that others might not realize about the work?
The work we do is incredibly rewarding because we get to know our students in a way that other faculty/staff do not. The process of determining appropriate accommodations is not black and white, and often requires thinking outside of the box which at times can be challenging. Many students do not want to register with our office because they feel like they are receiving special treatment. I try to explain to students that the accommodations are set in place to level the playing field and to help them achieve their fullest potential.  
What do you like most about working here or living in Athens?
I think the thing I like most about working here is being able to watch students achieve their goals. As an Assistant Director, I do not work directly with as many students as I did when I was a coordinator, but I always said that I loved the fact that I would see first or even second year students on a regular basis, but barely saw them during their third or fourth year. The thing I loved about that was that if we did not have regular contact it meant that they found their way and they learned how to "advocate" for themselves which was my goal. I guided them in how to handle certain situations when it came to what they needed in terms of their disability and they ran with it. When I was a student at UGA I received services from the DRC, and my coordinator, Margaret Totty, did the same for me so I guess you can say I am paying it forward. What do I like about Athens? I like the small town feel that Athens has while still being close to the Atlanta area, the mountains, and the beach.
Do you have any advice for new or current staff?
Try to establish connections with other staff and departments whether that is emailing your counterpart in another office or attending division-wide programs. It will give you a chance to see the scope of how much of an impact we make in the lives of others here at UGA and in the community.
What's the coolest thing you have ever done and why?
I think maybe seeing the world's greatest Rock 'n' Roll band (The Rolling Stones) five times in concert. Having two older brothers meant that I didn't have much choice when it came to well, pretty much anything, when the three of us were together. There were many summers that the three of us drove to Westhampton (New York) to visit my grandmother, and the rule was the driver got to choose the music. I am sure I did not like it at the time, but looking back I can appreciate it as they are the reason I love The Stones. As Keith Richards once said, "Music is a language that doesn't speak in particular words. It speaks in emotions, and if it's in the bones, it's in the bones."
There is something so exciting about seeing them in concert, and I am I hoping to get one more chance!
Nominate someone to be recognized for their hard work!
Staff Spotlights: Sharing the stories of staff in UGA Student Affairs
Contact Us
408 Memorial Hall
University of Georgia
Athens, GA 30602
James Crawford
Student Affairs Staff Development Lead
jcrawford@uga.edu 
Matthew Waller
Chief of Staff
mewaller@uga.edu