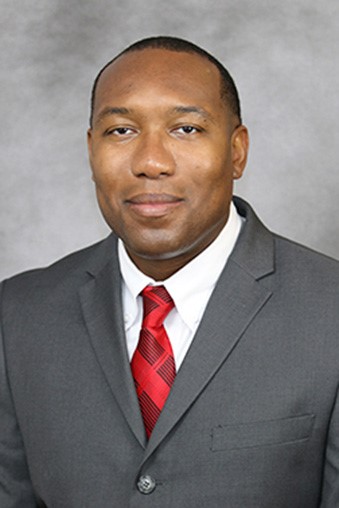 Senior Associate Director for Facilities – Recreational Sports
Positivity – Developer – Achiever – Context – Restorative
Brian was nominated by a colleague through our Staff Recognition form, who had the following to say:
Are you from Georgia? If not, where are you from? (i.e., where do you call "home"?)
My hometown is Alexandria, Louisiana.
How long have you worked at UGA?
I have been a proud member of the Bulldog Family for over 14 years. I started in 2006 as the Graduate Assistant for Strength and Conditioning in the Department of Recreational Sports.
What does a "day in the life" look like for you at work?
No two days are the same. I do my best spreading my time between supporting my staff (Team Greatness), interacting with students, as well as leading and coordinating facility projects and events.
What are three things you love most about your job?
I have a tremendous amount of respect and appreciation for the people I get to work with. I also love that my job affords me the opportunity to collaborate with students, faculty, and staff in different capacities. Lastly, I love that I get to lead facility projects that have reshaped and improved the quality of our programs and facilities. 
Who do you look up to/ admire?
I admire my beautiful wife. She has inspired and motivated me through her strength, work ethic, intelligence, and passion for life. She is really an incredible woman! 
What are things that you do for fun/hobbies?
I love living an active lifestyle, playing basketball, boxing, and traveling. I also like to try new things whether it be eating different cuisines, taking in a Broadway Show at the Fox, or doing TikTok dances with my kids. 
What might be something that you would like other staff to know about your job?
I would like for my colleagues to know that my job is multifaceted and that the work my department does is designed to improve the quality of life for our students and patrons.
What might be some ways that staff could collaborate or partner with you?
Since I work in facilities, there are a lot of opportunities to collaborate with our department in hosting events and programs.
Anything you would like to share that you would like other staff to know about you?
I am currently pursuing an EdD in Learning, Leadership, and Organization Development at UGA.
What advice would you have for new staff joining UGA Student Affairs?
Find your purpose and become engaged with others within the Division. Enjoy your journey and don't sweat the small stuff.
What is one question you wished we asked and what is the answer?
What is something you would like to learn?
I would like to learn how to play musical instruments such as the guitar, piano, or saxophone. I also wish I was an artist – so far the closest I have gotten is designing and renovating facilities.
What is the coolest thing you have ever done and why?
Visiting Hawaii and getting the chance to go surfing and snorkeling.  
As a bonus, Brian was featured in UGAToday in 2018, and his feature can be read here.
Nominate someone to be recognized for their hard work!
Staff Spotlights: Sharing the stories of staff in UGA Student Affairs
Contact Us
408 Memorial Hall
University of Georgia
Athens, GA 30602
James Crawford
Student Affairs Staff Development Lead
jcrawford@uga.edu 
Matthew Waller
Chief of Staff
mewaller@uga.edu