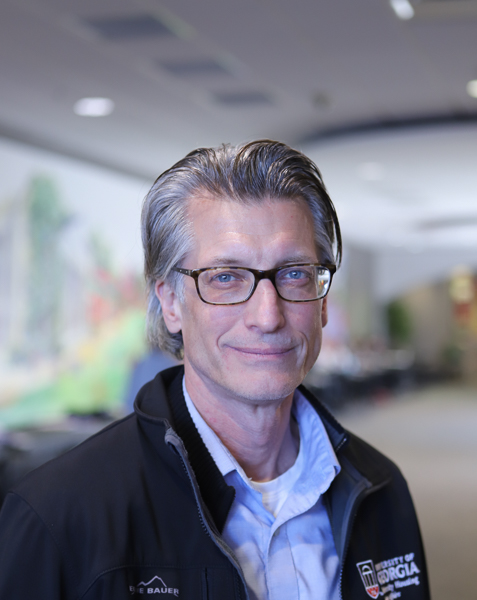 Associate Director for Facilities Operations – University Housing
Positivity – Achiever – Includer – Woo – Belief
Al works as the Associate Director for Building Services and Business Operations in University Housing and was nominated by a colleague for a Staff Spotlight. Al's nominator wrote:
Hi, Al! Are you from Athens or Georgia? If not, what led you to UGA?
I was born in Pennsylvania and grew up in York, Pennsylvania before I went to Ursinus College to run track and cross country. I had several family members attend Ursinus, so it seemed like the right path for me. After a couple of years, I transferred to Clemson University where I majored in Parks, Recreation, and Tourism Management. I chose to transfer there because of the major and I knew people from my high school that had attended Clemson. I also felt like it would provide a "larger experience" that I felt like I was missing. Athletics have, and continue to be, part of my life, so I think I wanted to see a larger experience. Plenty of my friends at Clemson were from Atlanta and so, in turn, I had heard about Athens. After I graduated, I felt like it would be a great place for me and it has been. I've lived here for at least half my life, and it is one of the many places that I call home.
Have you worked at UGA the whole time you've lived here?
No, I used to own a bike shop called Sunshine Cycles. Cycling and running have both been big parts of my life. I have all kinds of cycling stories. It was a pretty great time to use some of the management coursework that I took in managing various international cycling teams. You even have people who all they do is get sponsored and travel the country, going from race to race, and it was fun to host them during those trips. I still remember having bikers, bike gear, and equipment spread all over my house during the busy times of the year. This is back when Athens Twilight had been around for a little bit but was still growing. After I sold my shop in 2000, I was a woodworker for a few years and did a variety of jobs around town until I started working in FMD [Facilities Management Division]. I worked for FMD for 17 years until I had the [Housing] position cross my desk, but didn't think anything of it. I have a friend that, at the time, interacted with University Housing more than I did and who said two things about the job: 1) You'd be great at it and 2) There's a lot of good people over there. The second comment sparked my interest and inspired me to apply.
What is something about your position in University Housing that you would like other staff to know?
There is such a dramatic shift [in] facilities management from my time in FMD to what we are responsible for in Housing. These spaces are truly lived in 24/7 and you never know what each day is going to bring. While some of that is part of working on a college campus, we get to help design incredible learning environments for students. With the renovations going on in our residence halls, we are given an opportunity to craft aspects of the student experience where they will be able to make friends, study for exams, and become a Bulldog. Whether it is picking out furniture for the common spaces or the desks they will sit at in their rooms, we get to contribute directly to their success in such an inspiring way.
Do you still do any cycling or running? Any other hobbies?
I spend a lot more of my time running these days. I help coach people in the community every Tuesday and Thursday as they train for a half or full marathon. I started doing that about ten years ago and I figured I would stop once people stopped showing up, but it has kept consistent over the last decade. Each person comes from a different walk of life from throughout Athens. I also used to help with the AthHalf when it was first getting started. Now I help with the annual Give Thanks Thanksgiving 8k that happens on Thanksgiving each year. I still like to do some woodworking when I have the occasional project that a friend asks me to build. We also travel as a family whenever we can.
What do you like most about working here?
People tell you all the time that UGA has such an incredible impact in the Athens community, but I have seen it first-hand. My daughter is a December 2019 graduate and her experience has been incredible. I like getting to be a part of [the] experience these students have. I mean it when I say I feel very fortunate to get to do the work that we do with the people that I work with. I'm still occasionally in awe that I got asked to be a part of UGA in this way. My wife also works here, so we have a lot of family connections to the school. She is originally from Cortona, Italy and, fun fact, her father was integral in establishing the connection to bring UGA to Cortona, Italy for the new art program. We spent our 25th [wedding] anniversary going back to Italy to be a part of the [program's] 50th anniversary celebration. Connections aside, I also like the atmosphere my team has. Almost 100 people report up to me and I really enjoy getting to use my sports background to influence my approach with leading people. It makes finding the passion in our work easy because it is in everything that we do.
Any advice for new or current staff?
I think this is an incredible place that we can sometimes take for granted because we work here. This is a special place to work. I would say for the current staff to try and take moments where you pause, take a step back, and really take a look at what you do here at UGA for others. We get to be a part of something really special. Some days might feel like work more than others, but we get to have such a positive effect on others. New and current staff, I would say to take advantage of what you have here. Not every school provides tuition assistance to staff, so if going to school is something that interests you, UGA can help you achieve that goal. I would recommend trying to say 'yes' to all that you can. Yeah, you're busy and likely shouldn't say yes to everything, but you never know what doors will open for you just by trying something new. I would also say network as much as you can. We get to work with some really incredible people that are movers and shakers in their fields. Connect with them and learn from them because there is plenty to learn.
What's the coolest thing you have ever done and why?
I have too many, it's hard to choose. I'm a firm believer of what Jimmy V said: "If you laugh, you think, and you cry, that is heck of a day." I try to live my life so that each day has a little bit of that. Hopefully, most of the time those are tears of joy but sometimes they aren't.  
If I had to pick, I would say visiting Philly after I graduated from Clemson to go see the Philadelphia Cycling Championship. This race is about 160 miles and is one that has international implications for its racers. I remember seeing millions of people there, watching as they raced, and thinking about how incredible it was. The race also finished in front of the Philadelphia Museum of Art, which is where Rocky ran up the steps, so it was just a cool race to watch.
After I moved to Athens and opened my bike shop, the opportunity opened up where a team was looking for a manager, so I signed on to help manage them. They had lost a sponsorship, which is part of the whole process at times, and they came into the shop wanting to know if I knew of any local businesses looking to sponsor a team. I called around to a few cyclists that I knew and there was a graphic designer for Duck Head in Winder that put in a word for us to come into a meeting and make a pitch. We got our presentation together, made our pitch, and then ended up getting a sponsorship from them. Long story short, no one would have told me that five years later, from when I went to watch the race in Philly, that I would be managing a team that was in [that] race. We ended up putting a rider on the podium and getting on the front page of USA Today. I would say that was a pretty cool moment.
Nominate someone to be recognized for their hard work!
Staff Spotlights: Sharing the stories of staff in UGA Student Affairs
Contact Us
408 Memorial Hall
University of Georgia
Athens, GA 30602
James Crawford
Student Affairs Staff Development Lead
jcrawford@uga.edu 
Matthew Waller
Chief of Staff
mewaller@uga.edu