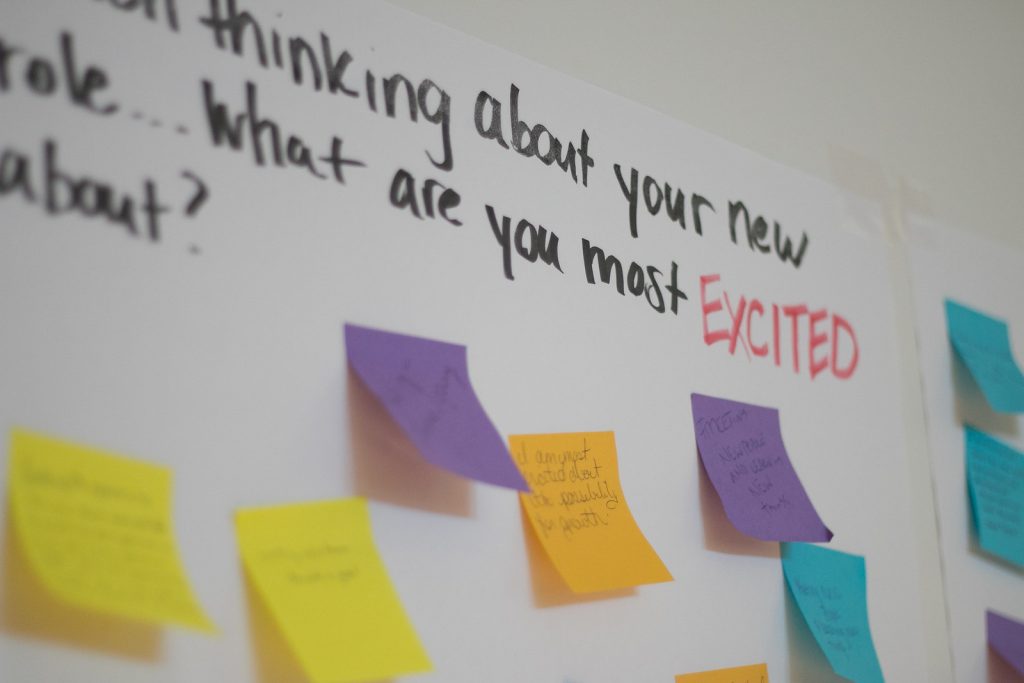 Staff Development opportunities in UGA Student Affairs range from large scale to small scale, workshop style to conferences.
Staff development initiatives created and facilitated by Student Affairs Staff Development are designed to:
provide staff with resources to effectively perform their assigned roles and responsibilities
foster staff connection and collaboration across the division
develop exemplary leaders within the field of student affairs
contribute to staff members' professional learning
foster a shared sense of community in UGA Student Affairs
We utilize this guiding philosophy and a foundational framework to plan its staff development initiatives. The foundational framework is comprised of two components – the UGA Student Affairs mission statement and an annual theme of emphasis. Connection to the three tenets of Engagement, Intellect, and Character promotes a mission-oriented approach to staff members' work.
An annual theme provides opportunity to be responsive to staff members' needs and adaptable to trends within higher education while also giving structure to the content. The annual theme selected for 2018-2019 is thriving leadership. This theme was chosen based on feedback from staff and members of Leadership Team regarding the desire and need for leadership development across all position types in the Division.
Student Affairs Kick-Off
 
July
Gather with UGA Student Affairs colleagues as we start off the new year with an opportunity to connect with one another and prepare for the upcoming semester as the campus community returns from winter break. Drop in to this "come and go" event as your schedule permits.
---
September
Join academic and student affairs professionals, support staff, and campus partners from schools across the southeast at one of the region's premiere one-day events. More than 30 sessions in a jam-packed day of professional learning, networking, and colleagueship for faculty and staff to Engage!
---
December
An opportunity for staff from across UGA Student Affairs to gather and address some of the division's critical questions, participants will engage in a three-day modified Design Sprint (a model developed at Google Ventures) where they identify innovative solutions to pressing challenges, engage in mutual learning, and build and strengthen relationships.
---

State of the Division Address
February
Join Vice President Wilson as he addresses the connection between institutional and divisional priorities, as well as recognize the accomplishment of UGA Student Affairs in the wake of the State of the University Address.
---

Annual Student Affairs Celebration
May
Help us bring the school year to a close with the Annual Student Affairs Award Celebration. The formal program includes an awards component that recognizes individuals and groups nominated by fellow colleagues while the informal portion of the event provides opportunity for networking. Join us in celebrating the significant accomplishments of our staff and of the division!
Coffee & Conversations
A new monthly event, Coffee & Conversations is hosted by various departments across the division. Join fellow staff members in community building and celebrating the work our colleagues are doing while enjoying a hot beverage!
---
New Staff Welcome
New Staff Welcome is a one-day session offered on a quarterly basis to all staff new to UGA Student Affairs. It serves as one component of a multi-pronged approach to new staff on-boarding. New Staff Welcome sessions are designed for participants to receive a cursory knowledge of UGA and the Division of Student Affairs, to understand their contributions to advancing the division, and to establish connections with colleagues throughout UGA Student Affairs.
---
New Staff Reconnect
New Staff Reconnect is an opportunity for each New Staff Welcome cohort to reconvene, renew acquaintances, and catch up.
---

Partner Programs
Interested in other staff development opportunities? Check out our Staff Development Calendar for programming offered by other Student Affairs departments and across the university. Don't see your program on our calendar? Send us an email!
---

Workshops
The 2018-2019 staff development workshops feature a curriculum designed for staff to explore what makes them great!
In this hour-long workshop, each staff member will use results from CliftonStrengths StrengthsFinder self-assessment to build an introductory understanding of their StrengthsFinder Themes and explore how their Themes influence their work, relationships with colleagues and students, and contributions to the development of communities in which students at UGA thrive.
Workshop Requests
Do you have a workshop for your department that you would like an outside facilitator for? Participated in a workshop in the past and want us to bring it back to your department for a refresher?  
Please use the link below to request a workshop from our department. Sample workshops that we can facilitate for your team or department are listed below. We look forward to hearing from you!
Topics:
Leadership
Establishing Expectations in the Workplace
Resolving Conflicts
Essential Conversations Workshop
StrengthsFinder
Finding One's Purpose
Vision and Strategic Planning
Examining Work Styles and Working Together
To request an workshop tailored to your group, please fill out our request form below.
Staff Development Calendar
Staff Development Workshop Request Form
Contact Us
408 Memorial Hall
University of Georgia
Athens, GA 30602
James Crawford
Student Affairs Staff Development Lead
jcrawford@uga.edu 
Matthew Waller
Chief of Staff
mewaller@uga.edu