When to let go… and when to jump in!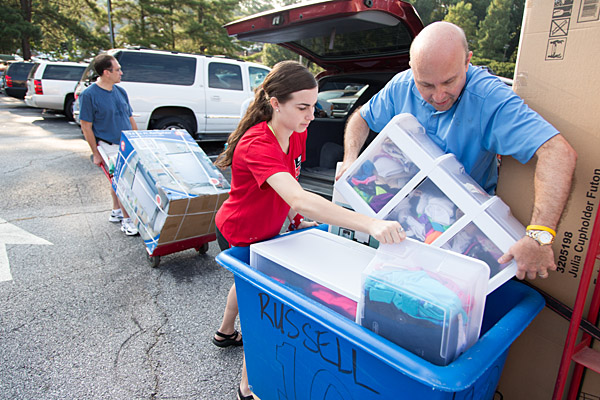 Parent advice for college-bound students 
Tom Shandley, Vice President for Student Life/Dean of Students Davidson College (toshandley@davidson.edu) 
Before they go: 
Before your son or daughter goes off to college, make sure you have made clear your expectations about academic performance. Expect them to do the best they can and to keep it as their top priority. But, also tell them that you will be there when they need support or are discouraged.
Discuss the use of alcohol and drugs. As easy as it is to avoid the conversation, it matters. They will be surrounded by temptation and your expectations matter. Be sure to also find out what the policies and procedures are concerning alcohol and drug use at their institution, particularly concerning parent notification.
No matter who their roommate is, it will be an adjustment. Be patient and let them try to work through difficulties before seeking a change. For most, it will be their first non-family roommate.
Discuss the values you have taught them. Include discussions about integrity, decency, illegal activity, respect for others, their faith and other topics. They will have many temptations and will need that to fall back on.
College students can fall into credit-card debt very easily. Discuss what they are expected to pay for, student or summer employment, and their credit limits.
Encourage them to seek out their professors after class or during office hours. Most are more than willing to help and, in fact, expect students to take advantage of the opportunity. More often than not, entering students are reluctant to do so at the time in their college career that it may be most helpful.
Entering students are also reluctant to use their advisers. In fact, they are often not sure what an adviser is. Encourage them to seek their help and input often.
For many freshmen, the first days of college may seem like a summer camp. There are lots of "getting-acquainted" activities, everyone is friendly, and there many attractive things to get involved in. It's easy to forget that classes and homework will start right away. Encourage them to choose a few organizations to get involved in and focus on their classes first. Find out when fraternity/sorority rush is.
Discuss what happens when they come home for breaks. They will no longer be accustomed to rules, curfews, etc.
Make clear what you expect to know about their grades, judicial record, trips out of town, etc.
Once there: 
Do your best to let the student solve their own problems with the college (i.e. professors, roommates, friends, rules, etc.).
If you can, boxes of cookies and mail are still treasured – perhaps now more than ever!
Try not to contact professors directly. They may not be able to respond to questions about grades. You should encourage your son/daughter to have that conversation and let you know.
Call the Dean of Students if all other attempts to solve a problem have failed.
Expect grade notifications to be very different. There may not be mid-term grades and the end-of-semester grades will almost always be sent or emailed only to the student. NOTE: The Family Educational Rights and Privacy Act (FERPA) (20 U.S.C. § 1232g; 34 CFR Part 99) is a federal law that protects the privacy of student education records.
What should you expect from the college or university? 
If you do call a professor or member of the staff, you deserve a response. Try to limit to essential business.
Knowledge about applicable rules and regulations that affect your student (i.e. housing policies, academic requirements, alcohol policy, etc.)
Competent, effective, academic advising and teaching, including a syllabus that clearly maps out course expectations.
Information about their approach to parental notification.
Professional, accessible counseling although the sessions will be confidential and they will or should not discuss without permission from the student.
Facts about student life, including on-campus residency requirements, when Greek rush occurs, health and safety measures, emergency response procedures, and roommate conflicts.