Welcome from President Jere W. Morehead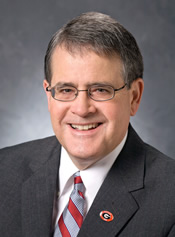 Welcome to the University of Georgia and congratulations on being accepted at one of the nation's leading public research universities. You arrive at UGA having achieved a superior academic record in high school. You now enter an educational environment in which the academic expectations are much higher, but we have selected you because we believe you can succeed at this great institution. UGA offers an unparalleled academic experience filled with a wide range of engaging opportunities — inside and outside of the classroom; I hope you will take full advantage of them. It also is important to understand that you are a citizen both of this campus and of the Athens community. You now represent the University of Georgia wherever you go. For more than 200 years, Athens and UGA have grown together, developing a relationship that benefits both entities. It is important that we continue to strengthen this relationship. I am truly honored to serve as President of America's first state-chartered university. As an alumnus of UGA, I take great pride in its academic standing, its beautiful campus, its talented faculty and staff, its loyal alumni, and its outstanding students. I look forward to sharing in this academic experience with you, and I wish you all the best as you get started. Jere W. Morehead President
Statement of Accreditation
The University of Georgia is accredited by the Southern Association of Colleges and Schools Commission on Colleges (SACSCOC) to award baccalaureate, masters, specialist, and doctoral degrees. Read more about UGA's accreditation at this link.
Safety
Information about keeping yourself safe on campus and being prepared in the event of an emergency.
Student Affairs
Student Affairs provides countless learning, development, and support opportunities that inspire students to lead, discover, and serve. The departments, programs, and services of Student Affairs span the student experience, including housing and residential life, health and well-being, student and cultural centers, campus activities, student organizations, accessibility, student conduct, and much more.
Instruction Resources
UGA's Office of Instruction works to ensure a quality student experience from the day a student is admitted until graduation. Supporting units such as Admissions, the Registrar and Student Financial Aid ensure that students take the necessary steps to enroll and finance their education. Access more information about instructional resources at this link.
UGA Directory
A comprehensive search engine for all UGA websites.