Campus Ministry Association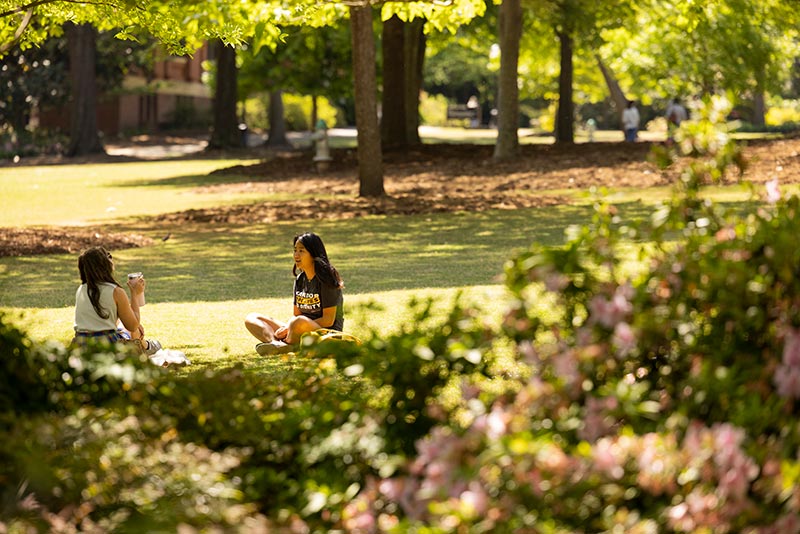 UGA's Campus Ministry Association continues in its mission to serve you and offer a variety of programs for encouragement, fellowship, spiritual formation, and personal support while you study at the University of Georgia.
Many faith traditions are represented in our membership, yet we are always looking to grow so that we may better serve you and encourage you in your spiritual journey. 
CONSTITUTION OF THE CAMPUS MINISTRY ASSOCIATION AT THE UNIVERSITY OF GEORGIA
Amended: January 14, 2009 & November 2, 2011
ARTICLE ONE: OFFICES
1. The address of the Campus Ministry Association (CMA) is the Office of the University of Georgia Religious Affairs Liaison.
2. The primary representative of the association is the president.
ARTICLE TWO: PURPOSE
The Campus Ministry Association seeks to serve and advise the University of Georgia community by encouraging religious life, supporting and connecting faith-based professionals∗, fostering healthy religious practices, and being an authority of matters of religion.
ARTICLE THREE: OFFICERS
1. The CMA Executive Committee shall manage the property and business of the association. In addition to the powers and authority expressly conferred upon itby this constitution, the Executive Committee may exercise all such powers of the CMA and do all such lawful acts as are allowed by this Constitution;
2. The Executive Committee shall consist of the President, the Vice President, the Secretary, the Treasurer, and The University of Georgia Religious Affairs Liaison.
3. The officers of CMA shall serve staggered 2 years terms. At the last meeting of each school year, CMA shall elect two officers. The President and the Secretary shall be elected concurrently and the Vice President and the Treasurer shall be elected concurrently. Their term of office shall begin after spring term graduation.
4. Officers may be nominated by the Executive Committee or by any voting member present at the meeting when officers are elected. Only supervising members may be nominated to serve on the executive committee.
5. Officers shall serve no more than two consecutive terms.
6. CMA will elect an interim officer to complete the terms of office for anyone unable to finish his or her term.
7. CMA Executive Committee will nominate the interim officer to be voted on in the first available CMA meeting.
8.The PRESIDENT shall preside and convene the Executive Committee meetings and regular meetings of CMA, plan the agenda for meetings, be a liaison with UGA, sign such papers as may be required by the office, sign letters and policy statements from CMA, and serve as the representative of CMA.
9. The VICE PRESIDENT shall perform the duties of the President in the case of his or her absence, resignation, or inability to act. The Vice President shall ∗Faith based professionals as defined in article six.
also be responsible for all internal programs of CMA.
10. The SECRETARY shall issue in writing all notices of meetings, keep complete records of the meetings, keep an accurate record of attendance of members at regular and ExecutiveCommittee meetings, be custodian of all records of CMA, prepare CMA's annual brochure, sign all such papers as may be required by his or her office, and perform other such duties as may be incidental to the office.
11. The TREASURER shall receive all monies, keep a full account of all monies received and paid out, make financial reports to the Executive Committee at monthly meetings,make biannualwritten treasurer reports to members of CMA, and collect all dues.
12. The UGA Religious Affairs Liaison, representing the Vice President of Student Affairs office, is an ex-officio member.
13. An officer can be removed from office with a two-thirds majority vote at a regularly scheduled CMA meeting. Prior to the vote, a CMAsupervising member must give a written petition to the Executive Committee through the UGA Religious Affairs Liaison.
ARTICLE FOUR: MEETINGS OF THE EXECUTIVE COMMITTEE
1. The Executive Committee shall meet monthly during the academic year, with special meetings called as needed.
2. In order to conduct business, a minimum of three officers shall be present.
ARTICLE FIVE: COMMITTEES
The Executive Committee may designate committees to help in the furtherance of CMA's purpose. Any committee shall act by a majority of its members within the authority delegated to it by the Executive Committee.
ARTICLE SIX: MEMBERSHIP
1. Eligibility—Supervising Membership in CMA is available to faith-based professionals who meet all the following criteria:
     a. Are ordained or designated by their faith community to serve the UGA community who present a letter of appointment from that sponsoring body indicating the applicant is officially representing the religion/faith at UGA;
     b. Have an undergraduate degree;
     c. Work with students, faculty, or staff at UGA on average at least ten hours a week during the fall and spring semester; or advise a registered student organization;
     d. Submit the appropriate application for membership form with dues to the Executive Committee;
     e. Indicate agreement with the CMA Constitution, Covenant, and Code of Ethics;
     f. Be present at the designated meeting after their applications are received in order to be interviewed and voted on by the membership; andg. Attend an orientation session.
2. [restrictions clause removed]
3. Privileges—Supervising Members of CMA will be entitled to the following benefits upon payment of dues:
     a. Inclusion in the CMA orientation brochure;
     b. Voting privileges at CMA meetings (one vote per ministry);
     c. A Faculty/Staff UGACard (upon payment of applicable fee);
     d. Status of a limited UGA faculty member and all the rights and benefits there of; and
     e. Such other benefits as the University or CMA may from time to time choose to bestow.
4. Renewal
     a. Membership is renewable annually upon submission of a membership renewal application form. The CMA year runs from August 1 through July 31st.
     b. Membership fees are due at the first CMA meeting in Fall.
5. Loss of Membership
     a. Notification of a loss of membership requires action of the Executive Committee and will be considered for those members:
          i. Who do not attend at least one half of the meetings.
          ii. Who do not submit dues and renewal applications by the second meeting of the fall semester.
          iii. Who violate the Constitution, Covenant, or Code of Ethics.
     b. Lapsed members will lose the privileges of membership and must reapply to CMA to be reinstated.
     c. The Executive Committee is authorized to recommend to CMA exceptions to membership renewal due to extenuating circumstances after the member submits a letter of explanation of the circumstances. Membership will be
         renewed after a three-fourths vote of the membership to accept the Executive Committee's recommendations.
6. Supervised Members—CMA supports its members who have the responsibility of their religious affiliation to act as supervisor for their staff members who do not meet CMA Professional standards. CMA's support is limited to asking the University, at the request of the Supervising Member, to issue a faculty/staff UGACard.
     a. Eligibility
          i. Candidates must apply for Supervised Member status to their Supervising Member, who will present the applications and dues to the CMA Executive Committee.
          ii. Candidates must attend an orientation session.
          iii. Candidates must hold an undergraduate degree and be serving with their Supervising Member's ministry.
     b. Supervised Members Responsibilities
          i. Uphold CMA's Constitution, Covenant, and Code of Ethics and be responsible to their Supervising Member.
          ii. Participation in CMA meetings is NOT required, although non-voting participation in both is encouraged.
     c. Supervising Member Responsibilities: Assume full responsibility for the conduct of their Supervised Members. Failures to address violations of the constitution, covenant, and code of ethics may result in the individual or supervising member's loss of membership in CMA.
ARTICLE SEVEN: VOTING
1. Each member organization will have one vote by their supervising member.
2. Any supervising member may have primary responsibility for casting theorganizational vote. Supervised members may cast the organizational vote as proxy.
3. Voting is only conducted when quorum is present. Quorum is established by 40% of organization membership.
4. A three-fourths vote of those present and voting will be required:
     a. for admission to membership,
     b. for constitutional amendments, and
     c. for official actions or pronouncements by the association.
5. A majority vote of those present and voting will be required:
     a. for normal business matters,
     b. for internal association activities, and
     c. for recommendations by the Executive Committee.
ARTICLE EIGHT: AMENDMENT OF CONSTITUTION
1. Any Organization member of the association may propose a constitutional change by submitting it in writing at any regularly scheduled CMA meeting.
2. The proposed amendment will be discussed and voted on at the next regularly scheduled meeting of CMA.
ARTICLE NINE: RULES OF ORDER
Meetings of the Campus Ministry Association will operate by Robert's Rules of Order.